Call us toll-free now
Book with an expert for free:
1 778 807 9750
Too much? We'll call you. Drop your number in the box:
24 hours a day, 7 days a week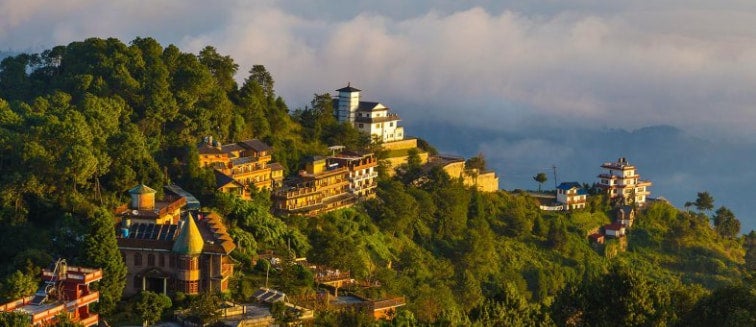 What to see in Nepal
Nagarkot
Tourist attractions Nagarkot
A mere 30 kilometres from the mythical capital of Kathmandu lies the tiny village of Nagarkot, perched on the hillside at the rim of the Kathmandu Valley. At an elevation of over 2000 metres, Nagarkot is known for its spectacular views of the Himalayas, including monumental Mount Everest. 
It's famed for its soul-stirring sunrises, which you can easily watch from the balconies of the best-placed hotels. The most scenic destination in the region, from Nagarkot you can view eight of the Himalayan mountain ranges, a phenomenal sight indeed. For clear skies, travel to Nagarkot between October and December and March and April to experience the immensity of the world's most famous mountain ranges without the need for climbing gear! It is true that the views are the villages main attraction unless of course, you are a keen hiker or trail walker. 
If you are, Nagarkot is full of surprising, challenging and scenic walks. The 'Nagarkot Panoramic Hiking Trail' is particularly stunning. On the other hand, adrenalin junkies can opt for exhilarating paragliding experiences in full view of mighty Everest. Pretty little Nepalese houses, cosy lodges and upmarket hotels can all be found within the village, scattered along the hillsides, and despite its popularity, there's no taking away from the tranquillity that Nagarkot possesses in abundance. 
So make the pilgrimage, if only to watch the changing landscapes as the weather moves across the sky and to comprehend the beauty and power of nature, although we doubt it's possible to truly understand the nuances of such a beautiful place.
OUR BEST TRIPS TO NAGARKOT
Copyright 2013-2023 Exoticca. All Rights Reserved.
Exoticca Travel Canada Inc 229 Yonge St Suite 400 Toronto, Ontario M5B 1N9 Canada