Call us toll-free now
Book with an expert for free:
1 778 807 9750
Too much? We'll call you. Drop your number in the box:
24 hours a day, 7 days a week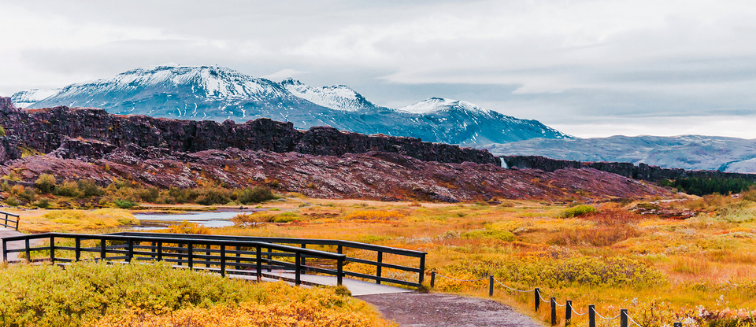 What to see in Iceland
Thingvellir National Park
Tourist attractions Thingvellir National Park
A national park in the scenic southwest of Iceland, Thingvellir is a site of great historical and geological importance. As one of the most popular tourist sights in Iceland, a trip to Thingvellir National Park is often included as part of the classic Golden Circle tour of Iceland. Around 30 miles from the capital, visiting Thingvellir is a popular day trip from Reykjavik.
Situated on the meeting point of the Eurasian and American tectonic plates, Thingvellir is best known as the original site of the Althing, the world's oldest surviving parliament. Although the Althing has now moved to Rekjavik, between the years 939 and 1798, Thingvellir was the meeting point of the chieftains of Iceland. Community leaders of the earliest settlers would travel miles across the immense landscapes to meet in this very location every summer and it was here that the most important decisions and collaborations were made. Therefore, Thingvellir is widely held to be the exact place where the nation of Iceland was founded, making it an incredibly significant site for Icelandic history and culture. 
This 36-square-mile UNESCO World Heritage Site is also home to diverse and unique natural attractions, from tectonic fissures and canyons to waterfalls and the incredible Thingvallavath Rift Valley Lake, a popular scuba diving destination. These awe-inspiring landscapes encompass volcanic magma fields, Iceland moss, ancient mountains and glacial springs. A number of walking trails weave through the park, allowing visitors to wander off the beaten path and soak up the tranquil yet dramatic scenery that Iceland is famed for.
Other things to see in Thingvellir National Park include Thingvallakirjha, one of the oldest churches in Iceland, founded in the 11th-century, and the interactive Thingvellir Visitor Centre, which skillfully explains the history of the Althing through an interactive exhibition. Furthermore, fans of the Game of Thrones television show will recognise the dramatic landscapes of this national park from the fourth season of the series!
OUR BEST TRIPS TO THINGVELLIR NATIONAL PARK
Copyright 2013-2023 Exoticca. All Rights Reserved.
Exoticca Travel Canada Inc 229 Yonge St Suite 400 Toronto, Ontario M5B 1N9 Canada