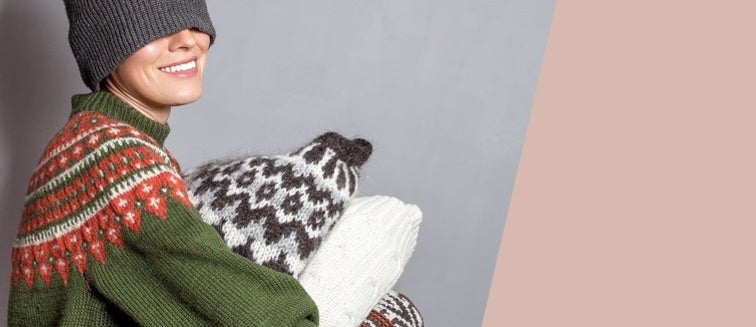 scandinavia and the baltic states
Shopping in
Iceland
Shopping in Iceland
If you are looking for souvenirs from Iceland you should read this.
Of everything you can buy in Iceland which you could imagine, you certainly didn't expect some very special souvenirs. The land of ice, as this country is known in Old Nordic, has some extraordinary typical products.
To talk about the typical products of Iceland is to enter a magical world of unique legends and sounds. Icelandic music, popular culture full of elves and fairies, and the scenarios of Game of Thrones can only be found in this country.
Let's see, out of all the souvenirs of Iceland which you could take home, which ones are the most representative.
Lopapeysa Jumpers
Icelandic wool jumpers are undoubtedly the most typical things to buy in Iceland. The wool of the sheep of this country have a unique quality, which makes the garments made with it highly valued. If you want a perfect gift to fight the cold, don't hesitate to buy an Icelandic wool garment. Of course, check that it isn't made in China, and go to places where they guarantee its authenticity.
Icelandic sagas
Another one of the souvenirs of Iceland with which to surprise yourself are the sagas, a compendium of the history, culture and popular folklore of the traditional Icelandic culture. These beautifully written stories are the perfect memory of a different and incredibly beautiful country. If you want to get the best sagas, we recommend the Saga of Njál and Egil. Both narrate Icelandic history in medieval times and are authentic treasures of the country's literature.
Icelandic fiction novels
Iceland is one of the countries with the most writers per capita in the world. Authors such as Halldór Laxness, who has been awarded the Nobel Prize, attest to the quality of fiction literature in this frozen country. If you like reading, this is something to buy in Iceland which will help you remember your visit to the country in a special way.
Works of art
In the Icelandic art galleries they exhibit well-known artists. If you like art and want to take home a sample, you can visit the Mokka Café or Port Verkefnarými. Contemporary Icelandic paintings and illustrations will satisfy the most demanding tastes.
Omnon Chocolate
One of the main brands of Icelandic chocolate is Omnon, which manufactures a variety of chocolates of great quality and flavour. This is one of the typical products of Iceland which is most coveted by tourists and lovers of sweet food. You can find it both in supermarkets and in souvenir shops, and I assure you that you will not regret having bought it.
Blooberg tea
Blooberg tea is actually a variety of Icelandic thyme with antibacterial properties. It is perfect for curing colds and stomach problems and has been used for medicinal purposes since ancient times. You can find it in most supermarkets and it happens to be one of the most traditional Icelandic products.
Brennivín
To remember your trip to Iceland there is nothing better than a bottle of Brennivín liquor. This brandy is made from potato purée, which is flavoured with caraway. It is the traditional Icelandic drink and will remind you of the frozen landscapes which you have admired so much during your trip.
Icelandic condoms
The Icelandic sense of humour is poorly known, however, Icelanders love to laugh at themselves as much as at tourists. Therefore, they have created a range of condoms called Enjoy our Nature, with images of erupting volcanoes or northern lights. The wrappers have naughty phrases like: high-quality condoms from the country of explosions. If you want to take a different souvenir from Iceland, this is what you were looking for.
Sweets with powers
If that is the way Icelanders are, they are able to market Icelandic souvenirs as original. In this case, these are bags of sweets which provide special skills. There are some to let you see elves, sing like Björk, have magical powers or understand Sigur Rós. Of all the typical Icelandic products, these take the prize for originality and self-confidence.
Boats to Bit of Iceland
We continue with the typical products to buy in Iceland to get a smile from your friends. In the souvenir shops you will find some boats labelled with the most bizarre contents. They have anything from an ice cube of a glacier, to volcanic ash, all with instructions and a little history of the content. You can even take home pure Icelandic packed air. If you thought that the cold made them have a bad character, these souvenirs will make you completely change your mind.
Now that you know what to buy in Iceland, as you may have seen, this magnificent country offers you many different and unique souvenirs and typical products. Do not forget to take one of them as a souvenir of your visit.
OUR BEST TRIPS TO ICELAND