Call us toll-free now
Book with an expert for free:
1 778 807 9750
Too much? We'll call you. Drop your number in the box:
24 hours a day, 7 days a week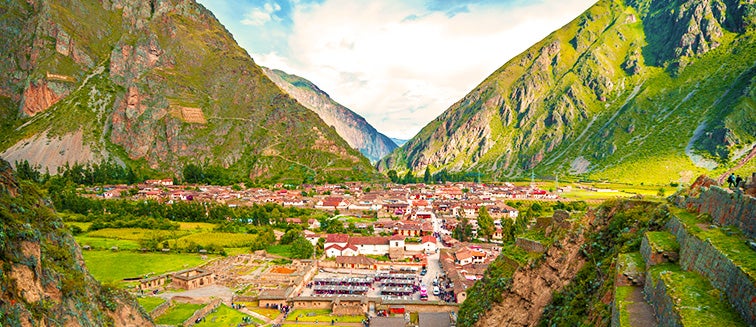 What to see in Peru
Sacred Valley
Tourist attractions Sacred Valley
The Sacred Valley, nestled in the Peruvian Andes, is one of the country's most rewarding travel destinations, owing to it's mysterious Inca ruins, breathtaking scenery, and charming colonial towns and villages. Relics of Peru's Inca heritage are scattered throughout the bowl-shaped landscape of the Sacred Valley and it's proximity to both the ancient Inca capital of Cuzco and the bucket-list ruined citadel of Machu Picchu makes it ones of the country's most popular tourist destinations.
Gladly, the Sacred Valley's popularity has not detracted from its natural beauty or intruded on its pockets of untouched Inca culture. Here, you can get lost in the labyrinthine streets of Ollantaytambo, where typical Inca streets are still trodden by traditionally-dressed locals, or quad-bike across the sweeping valley to the curious Maras Salt Mines or Moray Terraces, the result of some pretty ingenious experiments by the valley's original Inca inhabitants. Spend a few days in the Sacred Valley and you'll soon be bowled over by the traditional local culture, landscapes and living history of this magical place. A trip to the Sacred Valley is a great choice for adrenalin junkies, who are in for a treat as bungee jumping, rock-climbing, and rafting on the Urubamba River are all up for grabs in this beautiful part of Peru.
Things to see in the Sacred Valley
There are simply so many things to see in the Sacred Valley, it can be hard to get your head around planning an itinerary. It's highly recommended to get yourself a 'boleto turistico', a ticket which grants access to a range of ruins, sites, and museums in and around the Sacred Valley and Cuzco. A standard ticket is valid for 10 consecutive days. If you choose an organized tour of the Sacred Valley, this will probably be taken care of for you, but nevertheless, it's good to know some of the top sights in the Sacred Valley in order to plan out your trip to Peru.
Standing above the Urubamba River, on top of a mountain are the magnificent Pisac Ruins. A 2-hour hiking trail links the ruins with the colonial town of Pisac, and although the hike may be a little grueling at this altitude, you'll be greatly rewarded by a well-preserved selection of Inca ruins which easily compete with Machu Picchu in terms of size and complexity. Probably built as a defense system, the sweeping stone terraces, buildings, and circular look-outs will take your breath away, as well as the staggering views across the Sacred Valley. Even higher in altitude than Cuzco lies the charming little town of Chinchero, home to Inca architecture and a lively local market. Chinchero is well-known as a center of Peruvian textiles.
The local weaving center offers demonstrations and workshops to visitors, who can purchase the finished articles at bargain prices. The Salt Mines of Maras are perhaps the Sacred Valley's most curious attraction. These salt mines, in use since pre-Inca times, are an ingenious invention, as well as being incredibly photogenic. Families in the local communities are each assigned one of the salt ponds and harvest salt once the sun has evaporated the spring water from the pond. You can even purchase Maras salt in the local souvenir shops! If you travel to the Sacred Valley hoping to get to know the locals, you can't miss out on visiting Ollantaytambo, dubbed the 'only living Inca town'.
Dating from the 15th-century and once an important royal estate of a powerful Inca emperor, today it tempts travelers to explore its archaeological sites and meet the locals, many of whom wear traditional dress and live in ancient Inca dwellings. A fortress, terraces, and plaza, dating back to Inca times, can also be found in Ollantaytambo. Finally, a tour of the Sacred Valley would be incomplete without visiting Pisac Market, the best place in the valley to experience vibrant Quechua culture. If you visit Pisac Market on a Sunday, you'll see local communities from around the Andes gathering to sell their produce and buy supplies. You'll also find plenty of stalls selling Andean textiles and souvenirs, such as cozy ponchos, a must for keeping warm at altitude. 
OUR BEST TRIPS TO SACRED VALLEY
Copyright 2013-2023 Exoticca. All Rights Reserved.
Exoticca Travel Canada Inc 229 Yonge St Suite 400 Toronto, Ontario M5B 1N9 Canada