Call us toll-free now
Book with an expert for free:
1 778 807 9750
Too much? We'll call you. Drop your number in the box:
24 hours a day, 7 days a week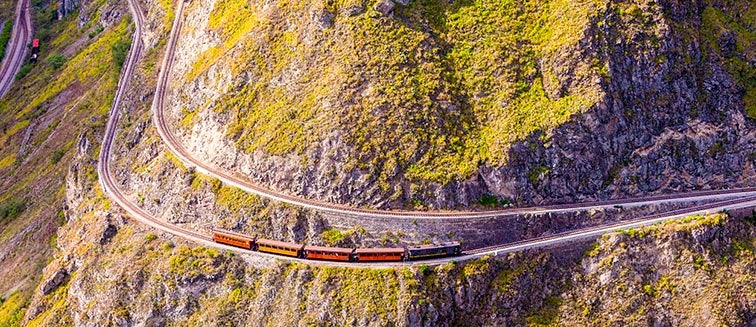 What to see in Ecuador
The Devil's Nose
Tourist attractions The Devil's Nose
One of the most exciting things to do in Ecuador is to ride the Devil's Nose Railway, situated in the province of Chimborazo. Designed to connect the coastal city of Guayaquil to the capital, Quito, construction started on this one-of-a-kind railway in 1901. The Ecuadorian government commissioned the project to build the 'toughest railroad in the world' to North American engineers, with the aim of speeding up product transportation and reducing the 17-hour journey from the coast to the Andes. Thus, from the mouth of the Guayas River, the Devil's Nose climbed the slopes of the majestic Chimborazo mountains, finally reaching Quito for the first time in 1908. 
This area was once known as the 'Condor's Aerie', home to a large population of magnificent Andean Condors. Unfortunately, the famous Condors fled the site once the works had begun and, sadly, many human lives were lost during its construction due to landslides, dangerous conditions and tropical diseases. These difficulties and misfortunes were considered 'diabolical', hence the railroad earned its nickname of the 'Devil's Nose'.
Considered a masterpiece of railway engineering, if you ride the Devil's Nose in Ecuador you're in for an exciting experience! The train moves in a zig-zag on the side of an impenetrable wall of rock, moving forward and backwards, descending and ascending until finally reaching sufficient height to continue towards a viewpoint.
This railroad route invites you to enjoy the beautiful Andean landscapes of cloud-covered mountains, the Chanchán River and wildlife-rich forests. If you are lucky enough to sit in a window seat you can enjoy deft-defying views over the edge of the mountain, not for the faint of heart but certainly an exhilarating ride! 
In recent years, the Devil's Nose section of the railroad has been fully refurbished to accommodate the visitors who travel to Ecuador to ride this once in a lifetime route. If you want to experience the thrill of a ride on the Devil's Nose Railway, it's best to plan ahead as there are only two departures a day. The trip takes around 2.5 hours in total, plenty of time to take in the unbelievable landscapes and immerse yourself in the history of this unique feat of engineering!
OUR BEST TRIPS TO THE DEVIL'S NOSE
Copyright 2013-2023 Exoticca. All Rights Reserved.
Exoticca Travel Canada Inc 229 Yonge St Suite 400 Toronto, Ontario M5B 1N9 Canada