Call us toll-free now
Book with an expert for free:
1 778 807 9750
Too much? We'll call you. Drop your number in the box:
24 hours a day, 7 days a week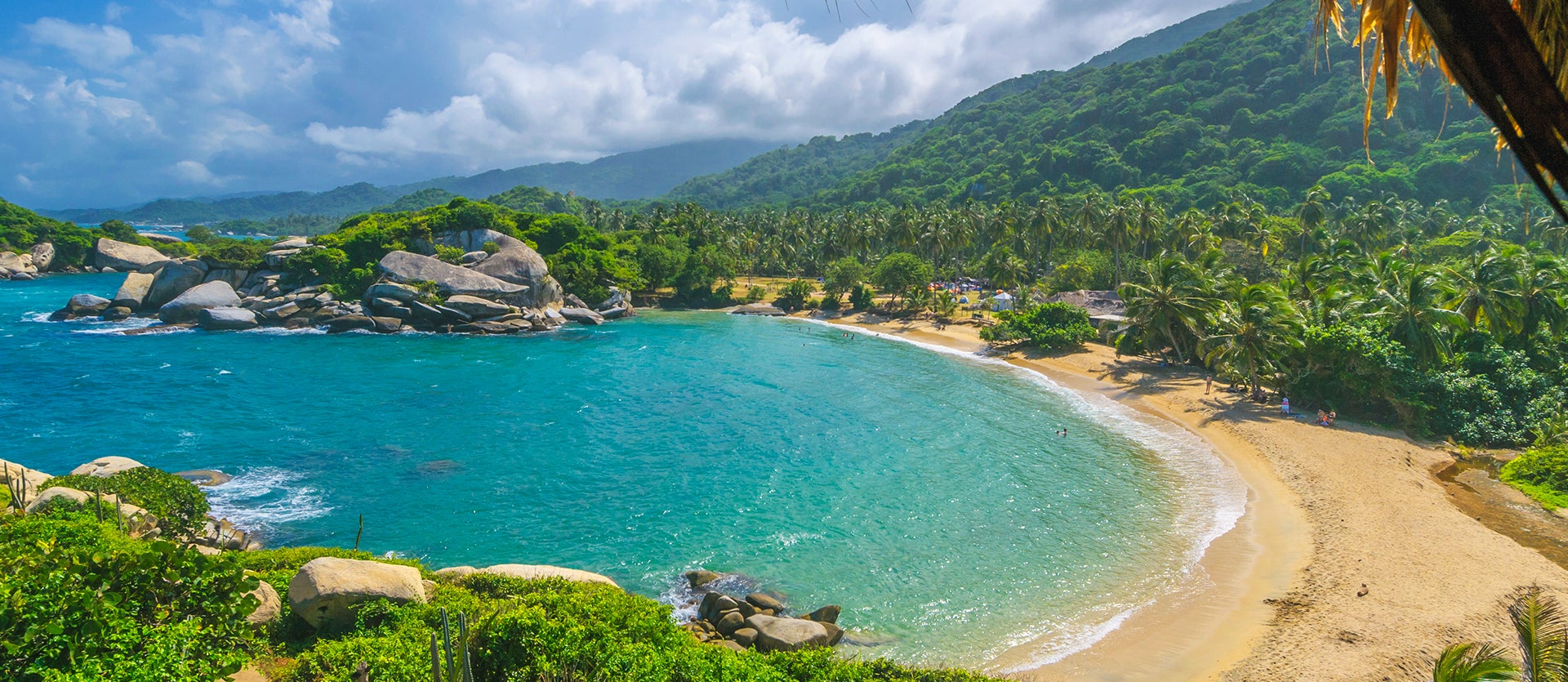 What to see in Colombia
Tayrona
Tourist attractions Tayrona
A protected area in Colombia's Caribbean region, Tayrona is a haven of rich biodiversity, desert-island beaches and tropical marine life. A national natural park, Tayrona covers an area of 150 square kilometres on land and 30 square kilometres of maritime area in the abundant waters of the Caribbean Sea. One of the most popular destinations in Colombia, the natural park encompasses verdant rainforests, home to monkeys, birds and other wildlife, as well as white-sand beaches, so if you want the best of both worlds, a vacation to Tayrona is an excellent choice!
Likened to the setting of "Jurassic Park", Tayrona is home to some of the most exotic landscapes in South America, and visiting here is the perfect escape from everyday life. Travel to Tayrona is motivated by two major attractions: incredible wildlife and beaches so perfect they belong in the realm of dreams! 108 species of mammal and 300 bird species inhabit this idyllic environment, including the mantled howler monkey, the adorable oncilla wildcat and the solitary eagle. Furthermore, jaguars are said to prowl the jungles here, although sightings are pretty rare. 
On the other hand, Tayrona National Natural Park is also known as an eco-tourism destination. Accommodations are generally quite rustic, and many visitors choose to camp rather than stay at a lodge or hotel. The hotels that do exist respect the natural environment, and keep interference with nature to an absolute minimum. Furthermore, many of the beaches are undeveloped, without facilities or restaurants and vehicles are only permitted up to a designated point. After this, it's just you and some of the most exquisite landscapes in South America! So, why not immerse yourself in pure, untouched nature with a trip to Tayrona?
Things to see in Tayrona
If you visit Tayrona National Natural Park, you'll soon discover that the best sights are simply the untouched rainforests and paradise beaches. Due to the lack of infrastructure, you'll most likely explore everywhere on foot, therefore you'll have plenty of chances to discover the abundant wildlife of the cloud forests and admire the pristine coastline as you while away the afternoons in the warm Caribbean sunshine. One of the most popular things to see in Tayrona is the mirrored beaches of Cabo San Juan. This sandy peninsula is comprised of two symmetrical stretches of sand, creating an effect of a 'mirrored' beach. A hilltop viewpoint allows visitors to admire the views of the identical beaches, backed by dense jungle. Of course, this is one of the most popular destinations in the entire park and is home to restaurants and a large camping area. 
One thing to keep in mind whilst visiting Tayrona is that the sea currents can be dangerous in some places. Therefore, it's highly recommended to stick to designated swimming areas and check for red flags before jumping into the endlessly inviting Caribbean waters! One such beach generally regarded to be safe for swimming and snorkelling is known as La Piscina. The calm waters here are ideal for exploring the rich underwater world of Tayrona, and you can rent snorkelling gear or take a guided snorkelling tour if you prefer. 
If you'd like to do some hiking during your stay in Tayrona, the Pueblito Hike is one of the best things to do in the park. Leading to the indigenous village of Pueblito, this 2.4-kilometre trail is relatively challenging and begins a Cabo San Juan beach. The trail is popular with visitors, and it is recommended to be respectful of the local communities when you finally reach the village and to not stay for an extended period of time. 
Tourist attractions colombia
Copyright 2013-2023 Exoticca. All Rights Reserved.
Exoticca Travel Canada Inc 229 Yonge St Suite 400 Toronto, Ontario M5B 1N9 Canada