Call us toll-free now
Book with an expert for free:
1 778 807 9750
Too much? We'll call you. Drop your number in the box:
24 hours a day, 7 days a week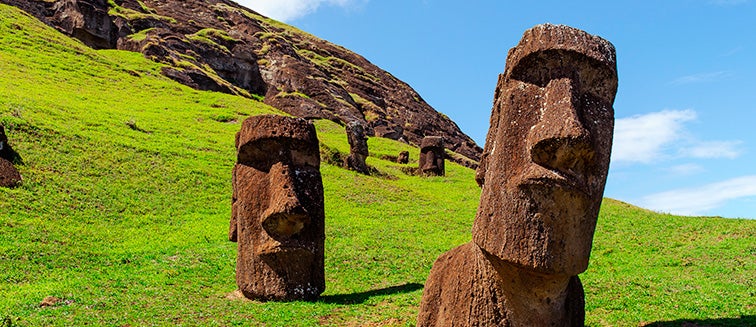 What to see in Chile
Easter Island
Tourist attractions Easter Island
This remote destination of Polynesia is one of the most enigmatic of the earth. The largest island in the country is preserved almost intact, isolated in the middle of the Pacific Ocean, thought to be hiding the mysteries and legends of the famous moáis, enormous monoliths carved in volcanic stone that look towards the village to protect the earth and its ancient Rapanui aborigines. Surrounding the monoliths, there is much speculation since they were made in the stone quarry of the Ranu Raraku volcano in the interior of the island and they were somehow transported several kilometers towards the coast. There are many theories addressing the question of how these giant sculptures were transported such a distance but nobody dares to give a definitive answer.
The most well-known image shows the 15 moas of Tongariki, aligned at the edge of the sea, which is recognized worldwide.
The island is home to three volcanoes with fantastic viewpoints, the Ranu Raraku, in which moáis lie covered with grass and half sculpted, the Puna Pau and the most important, the Ranu Kau on whose edge sits the ceremonial village of Orongo from where you can see three islets.
The most famous beach is that of Anakena, an enigmatic and paradisiac coastline of pink and white sand, warm waters and tropical palms where diving is one of the most sought-after activities to admire the bottom with 55 native species that only exist in this place.
Another great attraction of the island is its volcanic caves, of great geological and cultural heritage, a place of protection for the population in the periods of war in the past. The capital is Hanga Roa, the only populated center of the island that offers services where the lively streets Atamu Tekena and Te Pito stand out.
Rapa Nui is a unique destination, a land full of magic with landscapes that captivate due to its history and beauty.
OUR BEST TRIPS TO EASTER ISLAND
Copyright 2013-2023 Exoticca. All Rights Reserved.
Exoticca Travel Canada Inc 229 Yonge St Suite 400 Toronto, Ontario M5B 1N9 Canada