Call us toll-free now
Book with an expert for free:
1 778 807 9750
Too much? We'll call you. Drop your number in the box:
24 hours a day, 7 days a week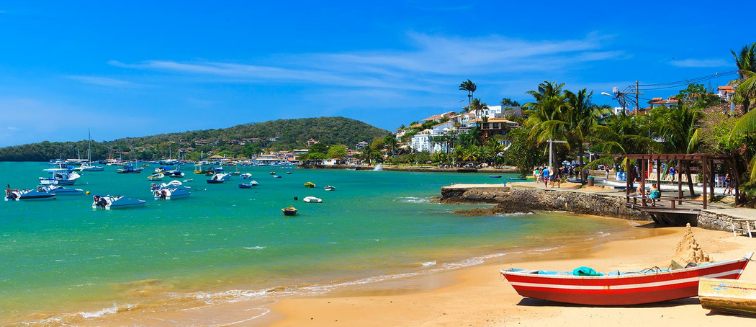 What to see in Brazil
Buzios
Tourist attractions Buzios
Set on a rugged ocean peninsula just east of the capital of Rio de Janeiro is the Brazillian resort town of Armação dos Buzios, more commonly known as simply 'Buzios'. Dubbed the 'Saint-Tropez of Brazil', Buzios is a coastal paradise known for its idyllic beaches, nightlife, upmarket resorts and watersports. 
The go-to destination for glamorous sunseekers, Buzios was just an ordinary fishing village up until the early 1960s, when French actress, Brigitte Bardot and her Brazilian boyfriend discovered this slice of paradise whilst fleeing the paparazzi in Rio. They quickly spread the word to their circle of jet-setting friends and before long, Buzios had become the hottest beach destination in Brazil. A trip to Buzios is the chance to relive the glamour of yesteryear and rub shoulders with Brazil's trendsetters and fashionistas.
Buzios is actually a collection of three small beachside settlements: Manguinhos, Armação dos Búzios and Ossos. Whilst Ossos is the least commercialised and boasts a pretty harbour and old town, Armação dos Búzios is where you'll find the most vibrant atmosphere and an array of amenities. 
Throughout Buzios, you'll stumble upon quirky fashion boutiques, upscale eateries and trendy bars and cafes as you explore the cobblestone streets. With more than 20 beaches to pitch your umbrella and watch the beautiful people pass by, Buzios has a distinctively Mediterranean feel and is a fabulous place to unwind after sightseeing in Rio. 
Things to see in Buzios
If you travel to Buzios, one of the best things to do is to take a stroll along the Rua das Pedras. The main artery of this resort town, Rua das Pedras is home to an array of shops, bars and restaurants. From here, you can get a feel for the place and also discover the array of watersports and entertainment on offer in Buzios. A cobblestone street, flanked by colourful cottages, it's the perfect place to begin a tour of Buzios.
One of the best things to do in Buzios is to take a walk along the Orla Bardot Promenade, a beachfront promenade that connects Armação and Ossos. As well as spectacular sea views, you'll also find a number of fantastic sculptures along the route, including one of Brigitte Bardot, created by sculptor Christina Motta. 
Of course, life in Buzios revolves around the beach, and Praia de Geriba is one of the most popular beaches on the peninsula. 1.2 miles of golden coastline, flanked by restaurants, beach bars, resorts and food stalls, head to Praia de Geriba to experience Buzios at its most vibrant. It's also home to a number of surf schools where you can learn to surf or hire a paddleboard. 
Copyright 2013-2023 Exoticca. All Rights Reserved.
Exoticca Travel Canada Inc 229 Yonge St Suite 400 Toronto, Ontario M5B 1N9 Canada