Call us toll-free now
Book with an expert for free:
1 778 807 9750
Too much? We'll call you. Drop your number in the box:
24 hours a day, 7 days a week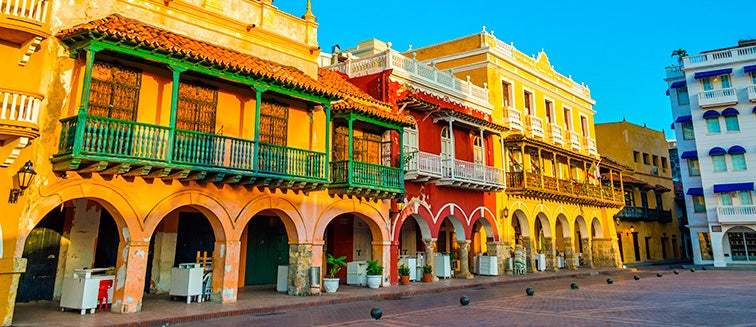 What to see in Colombia
Cartagena de Indias
Tourist attractions Cartagena de Indias
Located in northern Colombia and on the shores of the Caribbean Sea, Cartagena de Indias is one of the most beautiful cities in the country due to the rich architectural heritage inherited from the colonial era. It dates from the 16th century, when the Spaniards turned the city into one of the most important ports in Latin America and the enclave had to be fortified to avoid the invasions of the pirates.
Today, both the walls and many of the buildings and monuments of the time are still standing and have been declared a World Heritage Site by UNESCO. One of them is the Clock Tower, the popular gateway to the ancient city considered one of the most beautiful towers in the world. Behind it is the Plaza de los Coches, a huge and colorful square that formerly served as a parking lot and is now used mostly by tourists.
In the center, a sculpture by Pedro Heredia pays homage to its founder. His memory also remains alive in the house where he lived and which is located in the square; and in the theater of the city, whose building also bears his name. Other places of interest are the barracks of Las Bóvedas and the castle of San Felipe, samples of its famous military architecture; and Plaza Bolívar, where some of the most important buildings and museums of the old area are located.
OUR BEST TRIPS TO CARTAGENA DE INDIAS
Tourist attractions colombia
Copyright 2013-2023 Exoticca. All Rights Reserved.
Exoticca Travel Canada Inc 229 Yonge St Suite 400 Toronto, Ontario M5B 1N9 Canada