Call us toll-free now
Book with an expert for free:
1 778 807 9750
Too much? We'll call you. Drop your number in the box:
24 hours a day, 7 days a week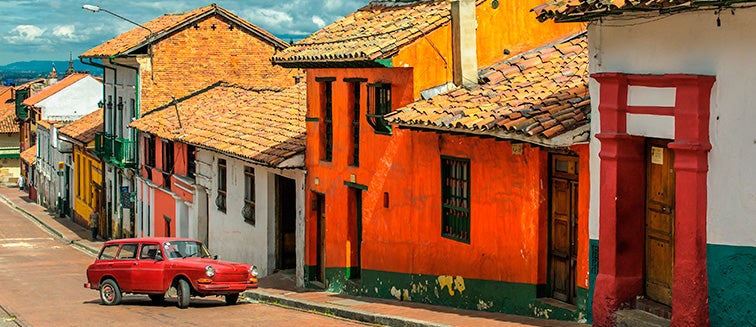 What to see in Colombia
Bogota
Tourist attractions Bogota
The capital of Colombia is one of the most vibrant cities in the country, where the great cultural, leisure, gastronomic and nightlife opportunities are concerntrated, with the popular rumba being the queen of all dances. Originally inhabited by the indigenous people of Muisca and conquered in the 16th century by the Spaniards, Bogotá has preserved its rich culture and the natural jewels that characterize it over the years. In the same city, up to thirteen wetlands have been conserved, including Santamaría and Conejera, where more than 100 species of birds can be seen. Its historic center, the Candelaria, keeps some of the most emblematic houses of the colonial era. It is the most famous district of the city, also the most colorful. This is where the famed Botero Museum is located, which keeps the best of Latin American art and artists like Botero, Dalí or Picasso among its walls. Other emblematic places are the church of La Candelaria and Plaza Bolivar, where the sculpture of the military and politician was erected after the independence of the country. The latter is the nerve center of the city and it is home to some of the most popular buildings such as the National Capitol, Bogota's first cathedral, the Colón Theater - where some of the best rumba shows are organized - and the house of the Vase, in whose interiors the museum is located.
One of the other great attractions of Bogotá is its thousands of parks, Simón Bolívar the largest and most central of them. The best views of the city can be found from the hill of Montserrate, the viewpoint that is more than three thousand meters high; or from the tower of Colpatria. Finally, you can not leave the capital without reviewing its history. The Gold Museum houses jewels from the pre-Columbian peoples.
Tourist attractions colombia
Copyright 2013-2023 Exoticca. All Rights Reserved.
Exoticca Travel Canada Inc 229 Yonge St Suite 400 Toronto, Ontario M5B 1N9 Canada