Call us toll-free now
Book with an expert for free:
1 778 807 9750
Too much? We'll call you. Drop your number in the box:
24 hours a day, 7 days a week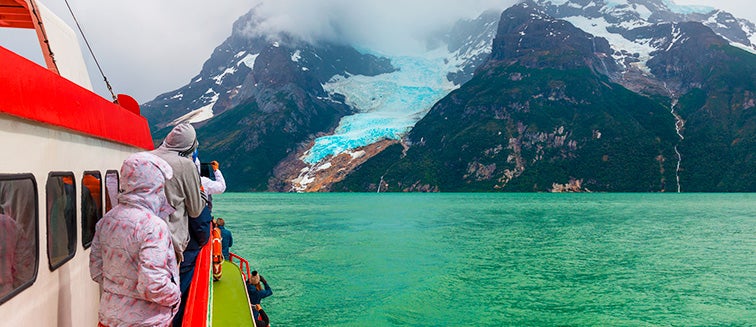 What to see in Chile
Serrano & Balmaceda Glaciers
Tourist attractions Serrano & Balmaceda Glaciers
Located within the Bernado O'Higgins National Park, these two mighty glaciers are must-see natural attractions in the Magellanes region of Southern Patagonia. The Chilean city of Puerto Natales is the jumping-off point for excursions to the Balmaceda and Serrano glaciers, which are part of the Southern Patagonian Icefield.
The Bernardo O'Higgins National Park covers an enormous area of 16,600 square miles, making it one of the largest protected areas on planet earth. Many tours to these two famous glaciers begin from Puerto Natales and include a cruise across the Ultima Esperanza fjord. Alternatively, both glaciers can be seen as part of a challenging hiking route through the smaller Torres del Paine National Park. The Balmaceda and Serrano glaciers are located on the side of Mount Balmaceda. The former is a hanging glacier and is attached to nearby Serrano. 
During the journey from Puerto Natales, you can witness the sound of waterfalls and colonies of condors, as the landscapes of Chilean Patagonian unfolds before your eyes. Finally, Mount Balmaceda, measuring 2035 metres high at its peak, and its imposing glaciers come into view. To access the Serrano Glacier, visitors must disembark the boat at the head of the fjord in Puerto Toro. From here, a 1-kilometre trail leads you through virgin Magellanic forests until you reach the famous Serrano glacier. Visiting a living glacier is a unique and unforgettable experience. Visitors can admire these imposing walls of sharp, jagged ice, enriched with beautiful blue tones. 
There is nothing quite as thrilling as coming face-to-face with one of the natural treasures of planet earth. The most awe-inspiring sight is when the Balmaceda glacier sheds blocks of ice. Huge icebergs drop into the fjord below, creating a captivating spectacle of nature. If you travel to Chilean Patagonia, an excursion to the Balmaceda and Serrano glaciers is an unmissable highlight.
OUR BEST TRIPS TO SERRANO & BALMACEDA GLACIERS
Copyright 2013-2023 Exoticca. All Rights Reserved.
Exoticca Travel Canada Inc 229 Yonge St Suite 400 Toronto, Ontario M5B 1N9 Canada