Call us toll-free now
Book with an expert for free:
1 778 807 9750
Too much? We'll call you. Drop your number in the box:
24 hours a day, 7 days a week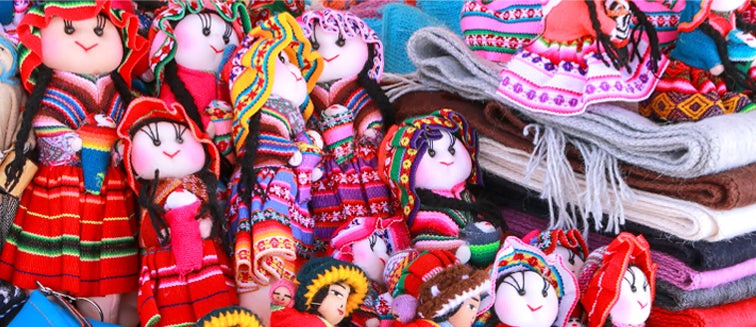 Shopping in Ecuador
If you are looking for souvenirs from Ecuador you should read this.
If you don't know which souvenirs from Ecuador to buy on your trip we will help you come back with the best gifts. This country offers handicrafts, coffee, chocolate, toys and so much more you'll want to take back with you.
When we talk about traditional products we also mean souvenirs. So, here are 10 ideas to find the best Ecuador souvenirs, in addition to other very tasty products.
When we talk about traditional products we also mean souvenirs. So, here are 10 ideas to find the best Ecuador souvenirs, in addition to other very tasty products.
Chocolate and Cocoa
In case you didn't know, Ecuador has the best cocoa in the world, which is why its chocolate is of great quality. Many types have won awards for purity, taste and manufacturing method. This makes buying cocoa or chocolate always the right choice, as it is the perfect souvenir.
There are many varieties and brands of chocolate, all exquisite and many world-renowned. Pacari Chocolates, originally from Quito, has won up to 6 gold medals. Its particularity is that it specializes in organic chocolate. Another famous chocolate is that of the Kallari cooperative, available in the best supermarkets in the United States.
Finally, as an anecdote, you should know that the To'ak chocolate bars have been sold at 260 dollars per unit. This is due to the complex and exclusive flavour of the chocolate of this Ecuadorian brand.
Coffee
Though not as famous as Colombian coffee, Ecuador's is also very good. Its flavour and fruity aroma carries a sweet note that makes it unique. Of all the typical products of Ecuador, coffee may be overlooked by many travellers, but it is highly recommended. The country is a great producer of coffee, so much so that it exports all the varieties of coffee that exist in the market. It grows and exports washed Arabica, natural Arabica and Robusta.
Collation
This Ecuadorian delicacy is a small round sweet stuffed with peanuts or almonds. It also contains sugar, water, lemon, essences and some other secret by the creator. Luis Banda has kept this tradition alive for more than 100 years in his family business in Quito. This sweet used to be eaten for Christmas, but its fame has transcended dates and borders.
Natural Remedies
In the Plaza de San Francisco, in Quito, Emma Lagla welcomes her customers into a small shop. She is a well-known herbert, sought after by locals and foreigners alike. Her natural herbal remedies can also be a good choice for gifts or for your own use.
In addition to all the products for consumption detailed above, in Ecuador, you can also buy a wide variety of souvenirs.
Souvenirs of Ecuador
Of all the typical Ecuadorian products you could take home, these are the most popular:
Spinning tops
Reminisce about your childhood with this colourful wooden toy. If you visit Quito, La Ronda has a place full of these colourful toys hanging everywhere. Handmade and filled with nostalgic feeling they are great for adults and children alike. Choose one, make it dance and take the one you like the most, it will make for a different and fun souvenir.
Hats
Hats are perhaps the most purchased souvenir items in Ecuador. Traditional Ecuadorian hats are made of toquilla straw. They come in different models and prices, from 35 dollars to almost 400. Their quality and price depend on the tightness of the fabric, the tighter the fabric the higher the price.
Ponchos
Ponchos are also one of the most traditional and typical gifts from Ecuador. If you want to get a quality one at a good price we recommend that you visit the Otavalo market. This market is held every Saturday and offers such a variety of prices and models that you will need to visit it at ease.
This market is also known as the Ponchos Market, and offers also hats, scarves, shirts, trousers, espadrilles, etc. There are also handicrafts in clay, paintings, wood, jewellery, and goldsmithery. It's kind of a paradise for traditional souvenirs.
Rondadores
A rondador is a type of zampoña (musical instrument) typical of Ecuador. It is made with reeds and, exceptionally, condor feather quills are added. Its characteristic sound is very crystalline and only allows two pentatonic scales. This peculiarity produces a peculiar sound, reminiscent of birdsong. Undoubtedly they are a precious and authentic souvenir of Ecuador.
Dolls
The dolls dressed in traditional Ecuadorian costumes are perfect gifts. They are made of fabric and their hair is made of yarn, and there are different sizes and clothes. Besides being quite cheap they are very nice and will always remind you of the traditions of this great country.
Now you know what to buy in Ecuador, as you have seen, you have a wide range of possibilities. Save a portion of your budget for purchases because once you start you won't be able to stop. You don't want to leave without your memory of Ecuador.
OUR BEST TRIPS TO ECUADOR
Copyright 2013-2023 Exoticca. All Rights Reserved.
Exoticca Travel Canada Inc 229 Yonge St Suite 400 Toronto, Ontario M5B 1N9 Canada