Call us toll-free now
Book with an expert for free:
1-888-488-0592
Prefer us to call you? Drop your number in the box:
24 hours a day, 7 days a week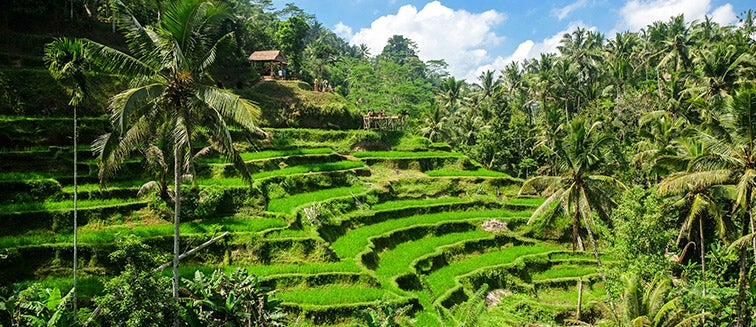 What to see in Indonesia
Ubud
Tourist attractions Ubud
In the verdant heart of the Indonesian island of Bali, Ubud is a city of rich traditional culture, rice paddies, Balinese arts and idyllic rainforests. A vacation to Ubud allows you to uncover the charms of Balinese culture whilst soaking up the tranquil atmosphere that this bohemian city is known for. Creatives have long been drawn to this city, nestled in the rainforested uplands, so you're sure to find a bountiful offering of cultural and arts events if you travel to Ubud.
Ubud is a city of colorful locals, creative ex-pats and curious cultural traditions. Don't be surprised if you never want to leave! In fact, it is one of the most popular places to visit on the island, but somehow manages to retain its authentic charms, ever-evolving to become a more trendy, sustainable and exciting place to explore. 
Art galleries rub shoulders with centuries-old temples and Balinese palaces. The city is also known for its culinary prowess, catering for all tastes ad fusing the flavours of traditional Balinese fare with an array of global cuisines. Furthermore, a trip to Ubud is a great choice for a laid-back getaway. The outskirts of the city are home to an array of luxury resorts and an abundance of secluded rainforest getaways offering an endless supply of spa treatments amidst paradisical surroundings. 
A tour of Ubud would be incomplete without experiencing the age-old dance traditions of the region, such as the Tek Tok and the Legong. When it comes to music, the melodic sound of gamelan acts as the ever-present soundtrack to life in the city. Travel to Ubud for a relaxing retreat and the chance to enjoy the mix of traditional culture and bohemian flare. 
Things to see in Ubud
Uncovering the artistic heritage and historic sights are the best things to do in Ubud. A good place to start is the Agung Rai Museum of Art, said to be the best museum in the city. This private collection is the property of founder Agung Rai, once a well-known Balinese art dealer in the 1970s. The museum opened in 1996 and the cultural complex is home to two galleries. Highlights of the museum include a number of Kamasan and Batuan-style works. Furthermore, the Agung Rai Museum frequently hosts Balinese dance and gamelan music performances.
Continuing the artistic theme, Neka Art Museum is one of the best places to visit in Ubud to encounter an array of local artists. Opened in 1982, this museum displays a vibrant collection of works by both Balinese and ex-pat artists. A brilliant collection of paintings inspired by the captivating landscapes and cultures of the island can be viewed here. The Neka Art Museum follows a layout of a traditional Balinese family compound, with a series of themed galleries. 
At the top of the list of things to do in Ubud is a visit to the famous Ubud Monkey Forest. This sanctuary is the natural habitat of the adorable Balinese long-tailed macaque. Here you can explore a 30-acre jungle site and a 14th-century Hindu temple, overrun with cheeky grey-haired macaques. A group of around 600 monkeys roam freely throughout the complex, so you'll have plenty of opportunities to observe these charismatic animals. Keep your wits about you as it's not uncommon for these playful monkeys to help themselves to your belongings!
If you travel to Ubud, you'll want to admire the ornate temples and architecture that characterises the island. Pura Tama Saraswati is a stunning example of Balinese Hindu architecture. Known as the 'Water Palace', it's home to a beautiful lotus pond and is dedicated to the Hindu goddess of music, art and wisdom. 
Finally, Ubud Palace is another of the best things to see in Ubud. This historic 19th-century palace complex is home to fascinating architecture, gold decorations and beautiful sculptures. If you visit in the evening you'll be treated to authentic Balinese dance performances. 
Copyright 2013-2023 Exoticca. All Rights Reserved.
80 Southwest 8th Street Brickell Bayview, Miami, FL 33130, United States