Call us toll-free now
Book with an expert for free:
1-888-488-0592
Prefer us to call you? Drop your number in the box:
Mon. to Fri.: available 24-hours Sat. and Sun.: 3:00 a.m. - Midnight (EST) Or call your preferred Travel Advisor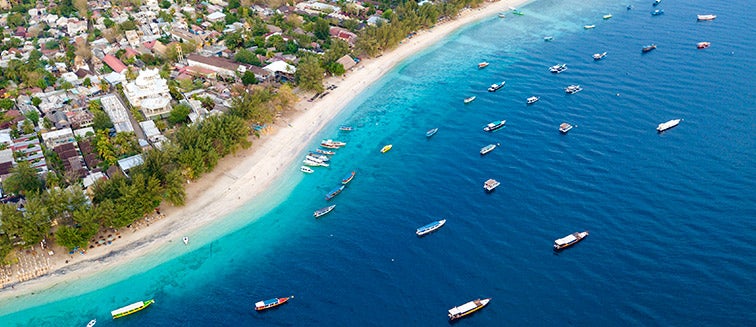 What to see in Indonesia
Gili Trawangan
Tourist attractions Gili Trawangan
Known as the 'Maldives of Southeast Asia', the Gili Islands are three small coral islets, nestled in the Bali Sea, just off the coast of Lombok. The largest island is Gili Trawangan, which is also the most popular thanks to its idyllic natural beauty, powder-soft white sand and lively beach bars. A hotspot for snorkelling, scuba-diving and sun-worshipping alike, Gili T, as its affectionately known, exudes laid back charm.
As trendy boutique hotels and upscale eateries pop up at an impressive rate, there is much effort to retain the tranquil atmosphere that made these tiny islands so popular in the first place. Motor vehicles are banned from this Indonesian archipelago, ensuring a vacation to Gili Trawangan is an oasis of calm, palm-fringed beaches and soul-stirring sunsets.
If you visit Gili Trawangan you'll find that the island truly comes to life after sundown. Once you've watched the sunset on the west side of the island, the east coast beckons with its beach bars and vibrant nightlife. Somehow, this paradise isle gets the balance between party island and laid-back tropical retreat just right.
You can travel to Gili Trawangan by boat from either Bali or Lombok. Measuring just 15 square kilometres, the island is small enough to explore on foot. Alternatively, traditional horse carts are available to transport you around the island. 
Things to see on Gili Trawangan
For a small island, there is a good selection of things to see on Gili Trawangan. If you love street food, one of the best things to do on Gili T is to visit the Trawangan Night Market. Filled with street vendors, here you can sample the diverse flavours of Indonesia whilst soaking up the bustling atmosphere. The market is open daily, from around 6 pm until late, and it's a great way to mingle with the locals who come for authentic, budget-friendly eats.
If you ever tire of the views of white sand and turquoise sea, be sure to visit Gili Lookout, the only hill in the Gili Islands. Follow the trail along a 20-minute uphill hike to reach the top of the hill. At the summit, you'll be treated to spectacular views of the Gili isles, Lombok and Bali. Along the hike, look out for the remnants of an old machine-gun bunker, a relic of the Gili's heritage as a World War II Japanese naval base.
Agung Baiturrahman Mosque is easily spotted thanks to its towering white minaret, situated on the main thoroughfare on the east of the island. The largest of three mosques on the island, this local place of worship is an important reminder of the religious traditions of these islands, something often forgotten by visitors searching for sun and sand.
Finally, you cannot visit Gili Trawangan without exploring the underwater world. One of the best things to do on the island is to go diving. In fact, the three Gili's are among the best diving spots on earth, blessed with abundant coral reefs and rich marine life. A selection of professional diving schools offers training for beginners and excursions and gear hire for more seasoned divers. The best dive spot in Gili Trawangan is Shark Point, where reef sharks and stingrays join the already abundant variety of sea life such as sea turtles and colourful fish. 
OUR BEST TRIPS TO GILI TRAWANGAN
Copyright 2013-2023 Exoticca. All Rights Reserved.
80 Southwest 8th Street Brickell Bayview, Miami, FL 33130, United States