Call us toll-free now
Book with an expert for free:
1-888-488-0592
Prefer us to call you? Drop your number in the box:
24 hours a day, 7 days a week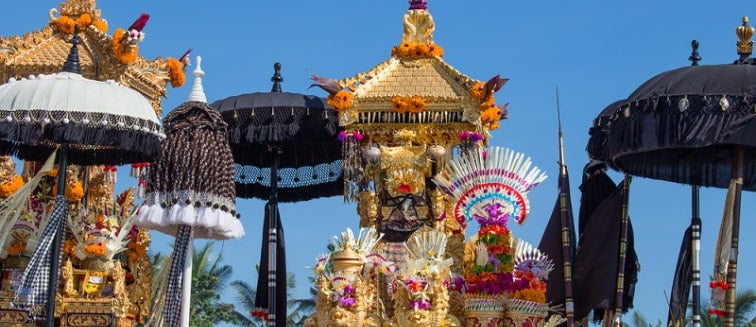 Events and festivals in
Indonesia
Events and festivals in Indonesia
When thinking about what to eat in Indonesia it's important to take into account the diversity of the country. Practically every island has its own traditional dishes, although rice usually forms the base of these.
Traveling through Indonesia you will notice the huge variety in the traditional dishes of popular cuisine. This is why we've put together a list of dishes you absolutely must try during your trip.
Nasi Goreng
If you're not sure what to try in Indonesia, this dish is an absolute must-try! This quintessential national dish is made from fried rice, with an added mix of chicken, vegetables, and prawns and served with a fried egg. It is usually accompanied by side dishes such as pickles and fresh-cut vegetables.
Nasi Campur
As we mentioned before, rice is the base of Indonesian gastronomy, and this dish is no exception. Chopped vegetables, chicken, omelet or tofu for a vegan version are added to boiled rice. The dish is similar to Chinese fried rice, but with a milder taste.
Mee Goreng
Another typical Indonesian dish that you will often find is Mee Goreng. This dish is prepared with noodles mixed with vegetables, chicken and sometimes omelet. It is usually served with soya sauce and is a breakfast buffet favorite for many hotels.
Satay
Of all the dishes in Indonesia, this is a real favorite for meat-lovers. The dish consists of barbecued chicken skewers in a spicy peanut sauce, served with marinated meat, boiled rice and cucumber. A mouth-watering combination of exquisite flavors for any carnivore.
Gado Gado
This dish is probably one of the most individual Indonesian dishes. It consists of a salad of beansprouts, green beans, cabbage, eggs, tofu, and potatoes. A spicy peanut sauce is mixed into the salad, and it is served with prawn crackers. Gado Gado is a real burst of flavors on the palate.
Lumpia
Similar to spring rolls, but with an Indonesian twist. They are filled with rice noodles, leeks, carrot, and meat. They are served as a starter or on their own, with a spicy sauce and a salad or thin-cut fries.
Bakso
This noodle and meatball soup is a favorite among Indonesians. Bakso is a bowl filled with a noodle soup of vegetables, beansprouts, meatballs or fish with a glutinous texture.  Without a doubt, this dish is a real example of everyday food enjoyed by locals.
Kary Ayam
If you're a fan of curry, Kary Ayam is a chicken curry made with coconut milk and served with white rice. Ii is served with thick-cut potatoes and chopped chilies.
Pepes Ikan
Banana leaves are used to prepare this typical Indonesian seafood dish. A large piece of fish is cooked in the banana leaves and then served with chilli and fresh mint. The word pepe describes the cooking method using the banana leaves, and the word ikan means fish.
Once you've sampled some of these typical dishes from the country, we're sure you still have room for dessert! Here's our list of some of the most common desserts found in this Far-Eastern country.
Pisang Goreng
This traditional dessert eaten in Indonesia consists of fried slices of banana dusted with sugar. They can also be served with vanilla ice cream and a delicious cup of Indonesian coffee.
Kolak
This is an iconic dessert in Indonesia, made from coconut milk, palm sugar, and fruit. Sometimes beans or banana are added. It can be served cold or warm depending on your taste.
Klepon
Of all the typical Indonesian dishes, Klepon is one you definitely don't want to miss out on. It is a delicious dessert that comes from traditional Java cuisine. It is a little rice pastry filled with palm sugar, covered in grated coconut. A perfect sweet treat to accompany a cup of tea or coffee.
Dadar Gulung
This is a dessert you are most likely to find in Bali. It is a type of pancake rolled in pandan leaves (giving the dessert its special flavor and green colour), filled with toasted coconut and cinnamon. Toasting the coconut in brown sugar gives the dessert its unique flavour, which is reminiscent of peanuts.
All of this makes up our list of all you need to eat Indonesia. Make sure you try all of our recommendations to make the most of your experience!
Copyright 2013-2023 Exoticca. All Rights Reserved.
80 Southwest 8th Street Brickell Bayview, Miami, FL 33130, United States