Call us toll-free now
Book with an expert for free:
1-888-488-0592
Prefer us to call you? Drop your number in the box:
24 hours a day, 7 days a week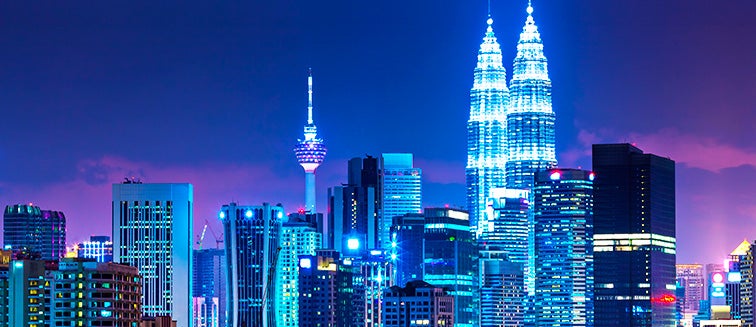 What to see in Malaysia
Kuala Lumpur
Tourist attractions Kuala Lumpur
The capital of Malaysia is a city of contrasts. In is a melting-pot of different communities such as Indians, Chinese and Malays, as well as other immigrant nationalities who arrived in Kuala Lumpur after industrialization. The icon of the city, which stands out from the rest of the buildings, are the Petronas towers, which once were the highest in the world and from where the best views are obtained. A few meters away is another of the most visited viewpoints. It is the Menara Kuala Lumpur, a communications tower whose base is an activity center for children. Both buildings are located in Gran Jalan Ampang, the district where most of the large hotel chains, restaurants and stores are concentrated. Malaysia was a colony of Great Britain until 1957, the day in which the great square of Dataran Merdeka replaced the Anglo-Saxon flag with that of the country as a symbol of independence. Some of the architectural gems of the city are the old railway station, which combines Islamic, Moorish, Gothic and Greek art; as well as Masjid Negara mosques, where non-Muslims are asked to cover themselves with a tunic, and Masjid Jamek, located in the center. The multiculturalism of Kuala Lumpur can be enjoyed in the different neighborhoods that make up the city. One of the most visited is Chinatown, where there are numerous markets of clothing, antiques, technology and furniture, selling products at a good price. It is also possible to find beauty salons and to try Ichthyotherapy, the so-called fish pedicures. Kuala Lumpur is one of the essential stops on a trip to Malaysia. Not only for its airport, where international flights arrive, but also for its cosmopolitan charm and buzzing atmosphere.
OUR BEST TRIPS TO KUALA LUMPUR
Tourist attractions malaysia
Copyright 2013-2023 Exoticca. All Rights Reserved.
80 Southwest 8th Street Brickell Bayview, Miami, FL 33130, United States