Call us toll-free now
Book with an expert for free:
1-888-488-0592
Prefer us to call you? Drop your number in the box:
Mon. to Fri.: available 24-hours Sat. and Sun.: 3:00 a.m. - Midnight (EST) Or call your preferred Travel Advisor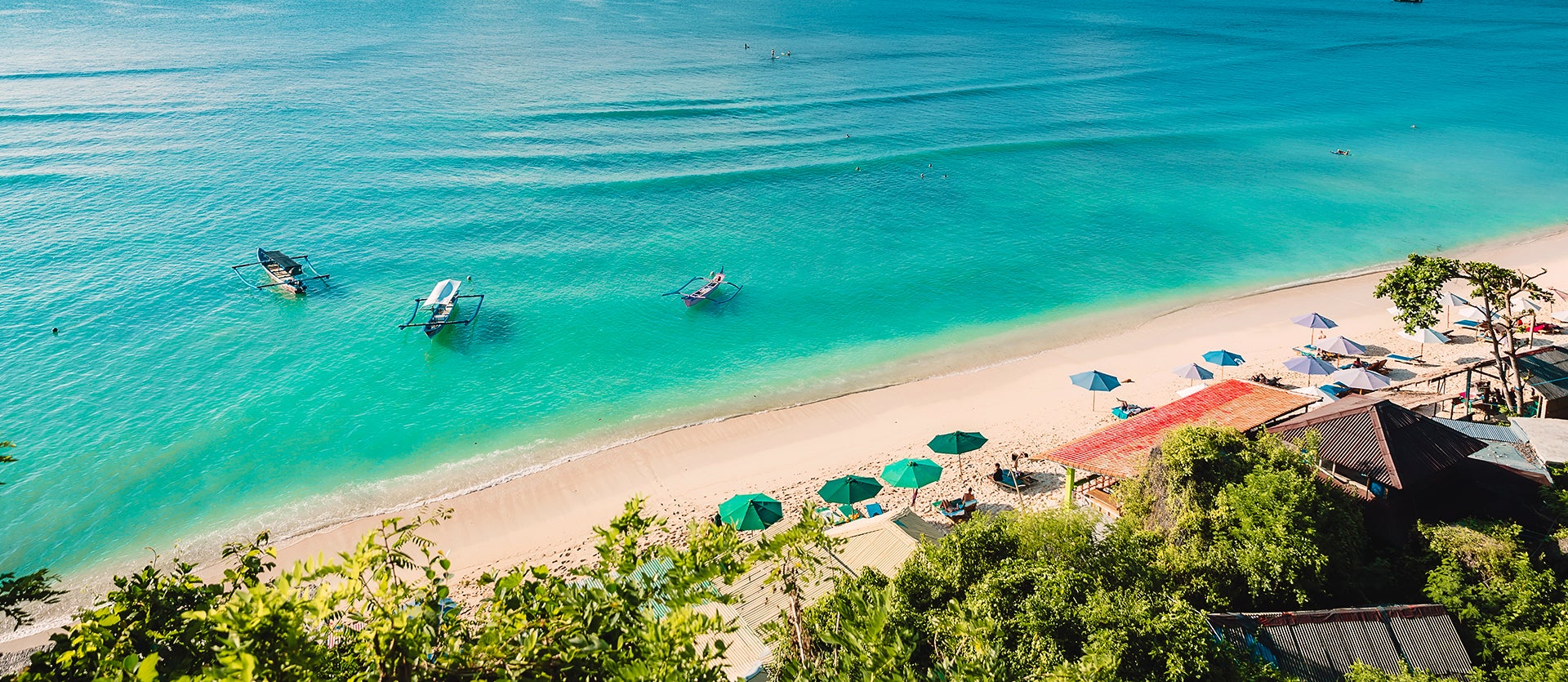 What to see in Indonesia
Benoa
Tourist attractions Benoa
Benoa, officially Tanjung Benoa, is a peninsula on the southeast coast of the paradise isle of Bali. The Benoa peninsula extends for around 4 kilometers from Nusa Dua to Benoa fishing village in the north. With white-sand beaches and an array of beachfront resorts, a vacation to Benoa is sure to be a tranquil escape, away from the lively nightlife of other resorts such as Kuta or Seminyak. 
Benoa is famed for its watersports, with paragliders and jet skiers propelling across the bay in a near-constant procession. Family-friendly and proudly laid back, a trip to Benoa is the perfect choice for a lazy beach break or an indulgent resort stay after a busy tour of Bali. This beautiful peninsula also offers a great insight into traditional Balinese life, with Benoa fishing village home to a charming harbour where you can watch the coming and going of the local fishermen. The area is also dotted with an array of eateries, beach bars and a handful of interesting cultural sights.
The best time to visit Benoa for a beach break is between April and October when you can expect warm and dry weather, ideal for enjoying the watersports and beaches of this idyllic corner of the 'Island of the Gods'. 
Things to see in Benoa
Once you've had your fill of lounging on the beach or enjoying the abundant water sports on offer, there are a number of things to see in Benoa. Caow Eng Bio Chinese Temple is one such cultural treasure. This eye-catching temple is hard to miss thanks to its rainbow-coloured facade. Beautifully carved from wood and stone, this Buddhist temple is an active place of worship. Outside of worshipping hours, visitors can enter to view an impressive dragon boat sculpture and intricately carved pagodas. 
Another unmissable temple to visit if you travel to Benoa is Pura Dalem Ning Lan Taman Beji, within walking distance of the colourful Caow Eng Bio Temple. A beautiful example of traditional Balinese architecture, this Hindu temple is home to intricate stone carvings, statues and three majestic temple gates. Locals can often be seen coming and going to make their daily offerings to the gods.
For further insight into local life, be sure to leave the beach for a while to visit Tanjung Benoa Village, one of the best places to visit in Benoa. Exploring this fishing village, situated at the northern end of the peninsula offers a valuable insight into everyday life in Bali. Early in the morning is the best time to see the fishermen flog their catch of the day. Afterwards, you can stop for a coffee whilst watching the wooden fishing boats come and go from the harbour. 
Copyright 2013-2023 Exoticca. All Rights Reserved.
80 Southwest 8th Street Brickell Bayview, Miami, FL 33130, United States