Call us toll-free now
Book with an expert for free:
1-888-488-0592
Prefer us to call you? Drop your number in the box:
Mon. to Fri.: available 24-hours Sat. and Sun.: 3:00 a.m. - Midnight (EST) Or call your preferred Travel Advisor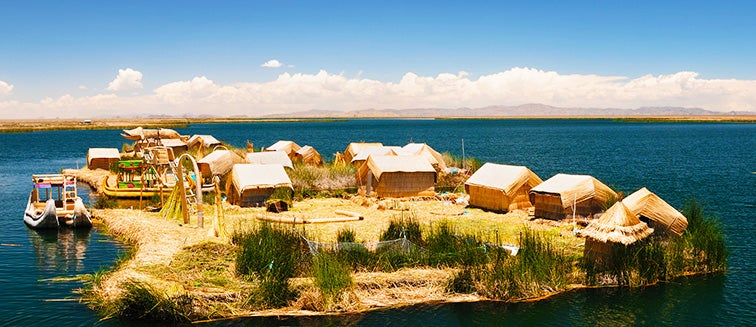 What to see in Peru
Lake Titicaca
Tourist attractions Lake Titicaca
The world's highest navigable lake, Lake Titicaca, situated in the Andes, straddles the border between Bolivia and Peru. Andean tradition dictates that Lake Titicaca is the birthplace of the sun and contemplating its bright, reflective waters, it's easy to understand how the lake has acquired such a mystical legacy. The most famous inhabitants of the lake were, of course, the Incas, but Andean communities have always been drawn to this magical place, including the ancient Tiwanaku people, whose presence on the lake dates back over 1000 years, as well as the Quechuas, Aymaras and Uros people, to name only a few.
Owing to the diverse communities that have settled here over the centuries, a trip to Lake Titicaca is a cultural experience like no other, and an unmissable highlight of any holiday to Peru. The lake is famed for its floating islands, constructed by the Uros people with thick, buoyant reeds that grow around the banks of Titicaca. A number of natural islands are also found, dotted throughout the lake, such as Taquile, Amantani and the Bolivian islands of Isla del Sol and Isla de la Luna. The city of Puno, on the western shores of Lake Titicaca, is a major center of Peruvian culture and the starting point for most trips to Lake Titicaca. When it comes to Peru's top sights, Lake Titicaca is on par with Machu Picchu and is invaluable for the insights it allows travelers to gain into Inca heritage and a rich mixture of Andean cultures.
What to see in Lake Titicaca
If you travel to Lake Titicaca, you'll likely want to explore its varied islands and discover the different cultures of its indigenous communities. Taquile Island is one of the most popular islands on the Peruvian side of Lake Titicaca and is protected by UNESCO for its cultural heritage. This hilly island is home to the Taquile people, Quecha-speaking people with a rich traditional culture. Both Taquile men and women wear colorful, traditional dress and are famed for producing high-quality handicrafts. Knitted, weaved and yarned textiles in a rainbow palette of colors are sold by the locals who have embraced the increased tourism to Lake Titicaca in recent years, offering homestays and guided tours to the islands pre-Inca ruins.
Aside from Taquile Island, visiting the floating islands is the most popular thing to do in Lake Titicaca. These small man-made islands, composed of buoyant reeds, are a fascinating sight and reveal much about the history of the Uros people in Peru. There are around 42 islands in total, and approximately 100 locals live there full time in their floating homes, which can be moved around the lake, historically to protect themselves from any threats that could arise on the shoreline. One of the Uros Islands even has a post office, allowing visitors to send a postcard from the only floating post office in the world!
Another unique thing to do in Lake Titicaca is to take a cruise in one of the Uros Totora Reed Boats, magnificent constructions and the traditional mode of transport of the Uros people. Finally, a holiday to Lake Titicaca would be incomplete without taking some time to explore Puno, nestled between the shores of the lake and the surrounding mountains. Puno is a major hub for indigenous culture and it's where most visitors to Lake Titicaca choose to spend the night. It's worth exploring it's elegant plazas or getting stuck into the local folklore traditions during the rambunctious Feast of Virgen del la Candelaria celebrations. The views of Lake Titicaca from Puno are equally as soul-stirring. 
OUR BEST TRIPS TO LAKE TITICACA
Copyright 2013-2023 Exoticca. All Rights Reserved.
80 Southwest 8th Street Brickell Bayview, Miami, FL 33130, United States