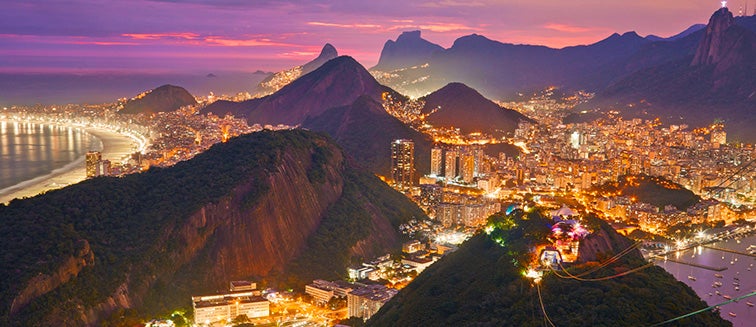 What to see in Brazil
Rio de Janeiro
Tourist attractions Rio de Janeiro
Founded as San Sebastian del Rio de Enero, now commonly referred to simply as Rio, is a Brazilian city and municipality, capital of Rio de Janeiro state, located in southeast Brazil. It is the second most populated city in Brazil, attracts the most international tourism in the country and is the first Olympic city in South America. It was the capital of the kingdom of Portugal between 1807 and 1822 and the capital of the Empire of Brazil since 1822, when the nation declared its independence from Portugal and conserved this status until the construction of Brasilia, in 1960. It is one of the main economic, cultural and financial centres of the country, and is known worldwide for its cultural icons and landscapes, such as the Sugarloaf Mountain, the statue of Christ the Redeemer, considered one of the Seven Wonders of the Modern World, Copacabana and Ipanema beaches, the Maracana stadium, and Tijuca National Park, the biggest urban forest in the world, amongst others.
OUR BEST TRIPS TO RIO DE JANEIRO

Do you want expert advice?
We can help you choose the best destination for your trip.