Call us toll-free now
Book with an expert for free:
1-888-488-0592
Prefer us to call you? Drop your number in the box:
Mon. to Fri.: available 24-hours Sat. and Sun.: 3:00 a.m. - Midnight (EST) Or call your preferred Travel Advisor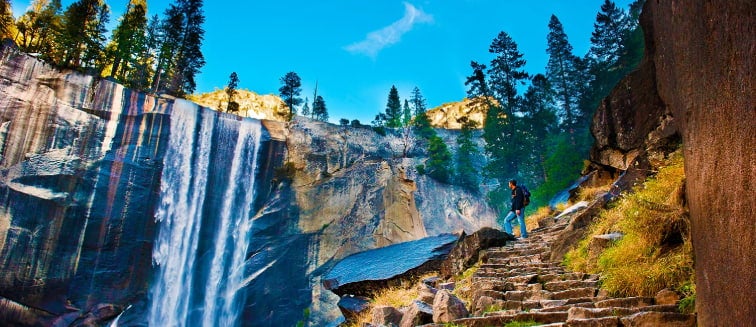 What to see in United States
Yosemite National Park
Tourist attractions Yosemite National Park
First designated as a protected area in 1864, Yosemite National Park is located in the state of California in the Sierra Nevada mountain range and is composed of 747,956 acres of pure nature. The first thing that springs to mind when Yosemite is mentioned is it's ancient giant Sequoia trees, of which there are at least 245. After the ancient trees, the parks amazing granite cliffs, deep valleys, green meadows, vast wilderness, and numerous waterfalls, are its main attractions. With around 4 million visitors each year, Yosemite National Park is an excellent example of the diversity and beauty of nature in North America.
Yosemite is home to a wonderful mix of vegetation, wildlife and birdlife. The park is split into five distinctive vegetation zones; oak woodland, upper montane forest, lower montane forest, subalpine zone and alpine zone, each of which supports a different variety of mammals and birds. Coyotes, racoons, bobcats, foxes and black bears, who are notoriously mischievous, are just some of the frequently spotted animals that roam freely around the huge landscape of the National Park. Lakes, glaciers and waterfalls glisten in the Californian sun, which in the summer is often scorchingly hot and the cause of repetitive wildfires in the park, which although dangerous, are integral to new growth of the flora and vegetation.
'Tunnel View', the most popular viewpoint, immortalised in thousands of photos from avid travellers, is one of the first attractions that visitors come across on their exploration of the park. Many people that travel to Yosemite choose to hike around sections of the park, although there are roads for panoramic tours. The park has played a pivotal role in the climbing community, thanks to the majestic cliffs of El Capitan and Half-Dome, which jut out in unique formations, caused by past tectonic activity and challenge climbers with their near-vertical rock faces. 
OUR BEST TRIPS TO YOSEMITE NATIONAL PARK
Copyright 2013-2023 Exoticca. All Rights Reserved.
80 Southwest 8th Street Brickell Bayview, Miami, FL 33130, United States