Call us toll-free now
Book with an expert for free:
1-888-488-0592
Prefer us to call you? Drop your number in the box:
24 hours a day, 7 days a week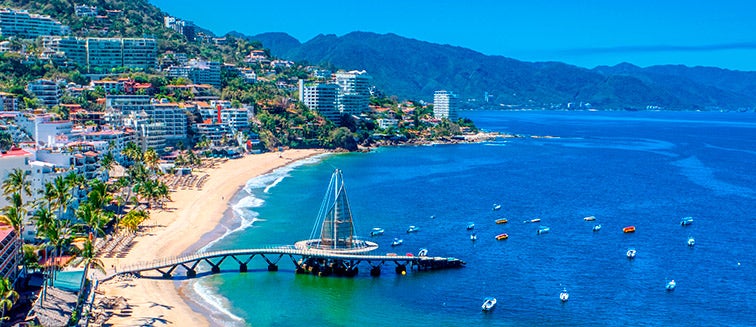 What to see in Mexico
Puerto Vallarta
Tourist attractions Puerto Vallarta
Puerto Vallarta is Mexico's most sought-after beach destination on the Pacific coast. Whilst the resorts of the Caribbean coast are better know, Puerto Vallarta offers an irresistible alternative, with a charming colonial-era old town and long stretches of golden sand beaches. Situated on the west coast of Jalisco state, a vacation to Puerto Vallarta is the chance to enjoy authentic Mexican culture and indulge in the spectacular natural landscapes of the wild and beautiful Pacific coast. 
Indeed, Puerto Vallarta stands out from other Mexican vacation destinations due to its heritage as a humble fishing town. This destination grew organically, partly due to its popularity with Hollywood royalty during the 1960s. In fact, the likes of Elizabeth Taylor, Richard Burton and Ava Gardner were some of the first jet-set to spend time in Puerto Vallarta, and since then this once sleepy town has grown to become one of the top beach destinations in Mexico! Family-friendly and also a fantastic vacation spot for couples, a trip to Puerto Vallarta is the chance to let your hair down and unwind amidst unforgettable scenery and sun-kissed beaches.
The great news is that you can visit Puerto Vallarta at any time of year. The year-round warm climate means the city's beaches and natural attractions can be enjoyed every month of the year. A stay in Puerto Vallarta is also a good idea for those looking to explore the rugged Pacific landscapes and outlying islands. A top destination for scuba diving and snorkelling, Puerto Vallarta is known for its abundant sea life, including humpback whales! 
Despite its growth into a big city, Puerto Vallarta still retains the charm of a traditional pueblo. From its bustling craft markets to its colonial plazas, traditional fiestas and mariachi bands, travel to Puerto Vallarta to experience the heart of Mexico! Stroll along the Malecon to soak up the views of the breathtaking Bay of Banderas and you'll soon realise why trips to Puerto Vallarta are so popular.
Things to see in Puerto Vallarta
If you choose a vacation to Puerto Vallarta, you'll likely spend much of your time enjoying the city's excellent beaches. Some of the best beaches in Puerto Vallarta include lively Playa de Los Muertos, romantic Playa Conchas Chinas and golden Playa de Oro. Further afield, the area boasts some pretty astounding secret coves and bays, many of which are only accessible by boat. For a true desert-island experience, be sure to visit idyllic Playa Las Caletas or the remote bay of Las Animas. 
One of the best things to do in Puerto Vallarta is to explore its charming historic center. With atmospheric cobblestone streets, vibrant murals and centuries-old architecture, it remains almost unchanged by the passing of time. At its heart is the Church of Our Lady of Guadalupe, a landmark of Puerto Vallarta, whilst the nearby Plaza de Armas is a great place to sit people watch and enjoy a taco or two from one of the street food stalls. As you stroll through the old town you'll also notice a large number of art galleries. In fact, Puerto Vallarta has a thriving artistic community and is a great place to shop for artworks and handmade crafts. 
If you want to immerse yourself in the pristine nature of this region, one of the best things to see in Puerto Vallarta are the spectacular Marietas Islands. Located within a protected national park, these uninhabited islands are the perfect place to go snorkelling, scuba diving or simply lounge on some of the most tranquil beaches imaginable! Organised boat trips to the Marietas Islands are the best way to experience this earthly paradise and many include equipment so you can kayak or paddleboard to explore the natural environment.
Of course, to soak up the vibrant atmosphere of Puerto Vallarta there's no better place than the Malecon, the main seafront promenade in the city center. Lined with street vendors, food stalls, restaurants and bars, it's the place to go for an evening of entertainment and boasts incredible views at sunset!
OUR BEST TRIPS TO PUERTO VALLARTA
Copyright 2013-2023 Exoticca. All Rights Reserved.
80 Southwest 8th Street Brickell Bayview, Miami, FL 33130, United States