Call us toll-free now
Book with an expert for free:
1-888-488-0592
Prefer us to call you? Drop your number in the box:
24 hours a day, 7 days a week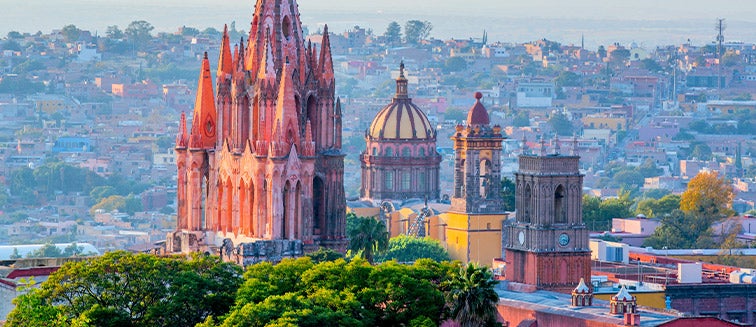 What to see in Mexico
San Miguel de Allende
Tourist attractions San Miguel de Allende
An enchanting city in the heart of Guanajuato state, San Miguel de Allende was founded in the 16th-century. Despite its humble size, this city has a glittering reputation thanks to its vibrant wine scene, artisan markets and highly Instagrammable streets. A cultural hub, travel magazines have even dubbed it one of the best cities to visit in the world! Strong claims for what was once a modest mountain village in central Mexico, but the moment you travel to San Miguel de Allende and see its charming architecture, sophisticated restaurants and artsy atmosphere, you'll understand why travellers can't get enough of this city!
colorful colonial-era architecture, excellent museums and an authentic cultural scene ensure there are plenty of things to keep you busy if you visit San Miguel de Allende. The historic city center is a time capsule, and UNESCO protected, filled with cobblestone streets and cheerful European-style facades. Wherever you venture, the towering spires of the pink sandstone Parroquia de San Miguel Arcangel help keep your bearings, plus the cozy size of the city means you can reach most of the sights in no more than a 20-minute walk.
170 miles northeast of Mexico City, trips to San Miguel de Allende are popular with locals and tourists alike, but especially with artists who come here to soak up the city's rich creative atmosphere and source inspiration from the lively and colorful cityscapes. Furthermore, San Miguel de Allende is home to a number of renowned art schools. Little wonder it's attracted a notable population of ex-pats from Europe and North America in recent years!
With such a celebrated reputation, you'll also find some exceptionally luxurious lodgings to choose from if you're on vacation in San Miguel de Allende, alongside high-end eateries serving up Mexican flavours in exciting and contemporary surroundings. 
The best time to visit San Miguel de Allende is during the spring when the jacaranda trees are in bloom and temperatures are ideal for sightseeing on foot. Nevertheless, the city's highland location means it's comfortable to visit at any time of year, although short rain showers can be expected during the wetter summer months. 
Things to see in San Miguel de Allende
After a wander around the historic center and a margarita with a view at one of the city's numerous rooftop bars, there's a whole host of things to see in San Miguel de Allende. All tours of San Miguel de Allende should start at the Parroquia de San Miguel Arcangel, the most notable landmark in the city, nestled in the heart of the old town. This parish church is instantly recognisable thanks to its pink sandstone facade, much of which dates back to the 17th-century. Free to enter, it's a worthwhile visit, if only for a quick photo stop. Outside is the Jardin Allende, a lively square where you can easily while away an afternoon listening to a mariachi band and admiring the perfectly manicured laurel bushes. 
If you're here for a little retail therapy, one of the best places to visit in San Miguel de Allende is its legendary Mercado de Artesanias. You can pick up all kinds of souvenirs and local arts here, from embroidered shawls to beautiful local pottery pieces. Sprawled across three streets, it'll take a couple of hours to explore the full variety of stalls, but it's the best place in the city to go shopping. Nearby, Fabrica La Aurora is a must-visit, a converted factory that today acts as the cultural center of the city, home to galleries, exhibitions and all things related to the arts and crafts scene in San Miguel de Allende. 
If you're into street art, or simply want a fantastic backdrop for your vacation photos, be sure to explore the trendy neighbourhood of Guadalupe. Surely the most vibrant part of the city, the streets of Guadalupe are decorated with impressive murals, ranging from Frida Khalo portraits to quirky depictions of fantasy worlds. Furthermore, the area is filled with hip cafes, bars and vegetarian restaurants. A must-visit for those looking to uncover the modern side of San Miguel de Allende!
Another reason to visit this city is its fantastic museums, the most popular of which is the Museo La Esquina. Dedicated to Mexican folk toys and vintage games, it's a charming place to learn more about Mexican childhood and get in touch with your own inner child! Other museums to visit in San Miguel de Allende include Casa del Mayorazgo de la Canal Citibanamex, to learn more about the history of the city, and Museo Histórico Casa de Allende, which focuses on the famous leader of Mexico's independence movement.
OUR BEST TRIPS TO SAN MIGUEL DE ALLENDE
Copyright 2013-2023 Exoticca. All Rights Reserved.
80 Southwest 8th Street Brickell Bayview, Miami, FL 33130, United States