Call us for free now
Book with an expert for free:
+44 20 8068 3176
Prefer us to call you? Drop your number in the box:
24 hours a day, 7 days a week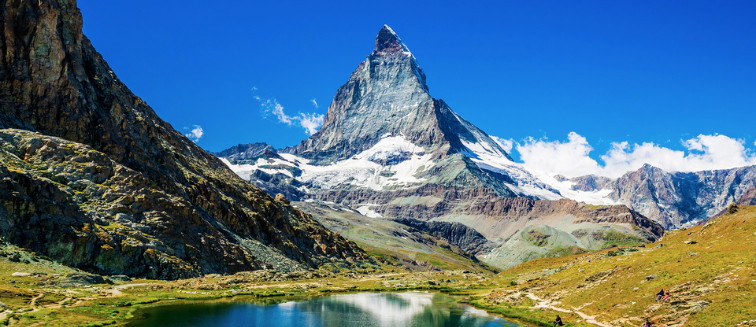 What to see in Switzerland
Zermatt
Tourist attractions Zermatt
Perhaps the most mythical destination in Switzerland, Zermatt sits at the foot of the Matterhorn, one of the most famous mountains in the world. The highest ski resort in Switzerland, nestled in the heart of the Swiss Alps, a trip to Zermatt is an escape into nature, where towering peaks and glacial lakes set the perfect backdrop for a memorable holiday. Skiing, hiking and simply admiring the landscapes are the most popular things to do in Zermatt.
This car-free town couldn't be any more idyllic, home to cosy accommodation options, stylish bars and restaurants and high-end shops. Whether you're here for the year-round ski slopes or for a hiking trip to discover the enchanting Swiss Alps, one thing is for sure: you'll find it hard to take your eyes off of the Matterhorn, towering in its perfect pyramid-shaped glory above Zermatt.
With chocolate-box Alpine architecture and a family-friendly atmosphere, Zermatt is an achingly beautiful travel destination and if you travel to Zermatt you'll be captivated by its peaceful landscapes and excellent amenities. Even in the summer, when most of the snow has given way to verdant green meadows, the city is a popular base for Alpine climbers and outdoor enthusiasts
To avoid pollution to the natural environment, no cars are allowed within Zermatt, so the easiest way to reach the town is by rail. In fact, it is a starting point for the famous Glacier Express railway journey, which weaves through the Swiss Alps to St. Moritz. The town can be comfortably explored on foot, although e-shuttles and e-taxis are available. To venture further afield there are countless cablecar and gondola lines to whisk you between ski slopes, viewpoints and the major mountain attractions.
Things to see in Zermatt
Surrounded by some of the most breathtaking landscapes imaginable, there are countless things to do in Zermatt, including skiing, snowboarding and hiking. One of the most exciting things to see is the Matterhorn Glacier Paradise, situated 3883 metres above sea level. To reach this lofty attraction you'll need to take the world's highest cableway, enjoying unbelievable views of snow-capped peaks along the way. 
Once you reach the Matterhorn Glacier Paradise you can enjoy the spectacular landscapes, including 14 glaciers and 38 peaks above 4000 metres high. A 360 degree Panoramic Platform is the ultimate alpine experience, second only to actually climbing the peak yourself! Furthermore, romantics can join thousands of other couples by placing a 'love lock' on the railings. Another highlight of the Matterhorn experience is the Glacier Palace, home to beautiful ice sculptures. 
To experience the Matterhorn from a different perspective be sure to take the cableway to Rothorn for amazing views from a vantage point of 3,103 metres above sea level. 
Back in Zermatt town, you can learn more about the Matterhorn and its significance at the Matterhorn Museum, home to interesting exhibitions about Matterhorn expeditions and the history of mountain climbing in the region.
Another of the best things to see in Zermatt is Gorner Gorge, just a 20-minute walk from Zermatt town. This impressive gorge was formed by the Gornera River over a thousand years ago and is filled with unique rock formations and beautiful waterfalls.
Lastly, the most obvious thing to do in Zermatt is to go skiing! As Switzerland's best-loved ski resort you really should try to get out on the slopes! Skiers can enjoy snowy slopes here at any time of year with all kinds of slopes to suit different skiing levels. Beginners can enjoy ski lessons whilst children under 9-years can ski for free in Zermatt!
OUR BEST TRIPS TO ZERMATT
Tourist attractions switzerland