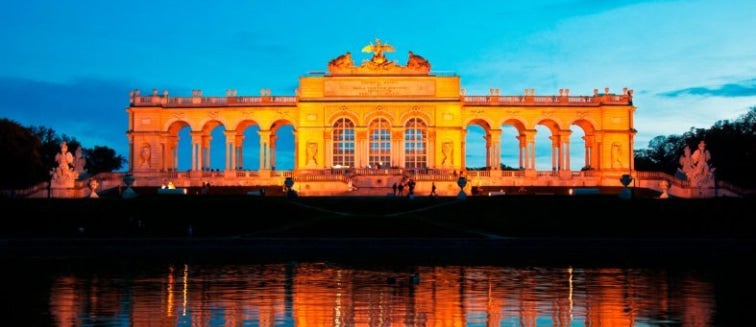 What to see in Austria
Vienna
Tourist attractions Vienna
Home to 1.7 million people, Vienna is Austria's vibrant capital city, situated on the Danube River and known for its fantastic artistic and intellectual legacy and as the heart of the powerful Habsburg Monarchy. A true cultural delight, brimming with candy-coloured lanes, soaring baroque cathedrals and super-cool riverside cafes, a city-break to Vienna packs a punch! The city exudes art, literature, history and architecture, with so much to see and do you'll find it hard to know where to begin.
The historic centre or 'Inner Stadt' is a UNESCO World Heritage Site and is the heart of the city and the '1st district' with 22 further districts radiating outwards from its core. The Viennese are famed for their indulgent tastes, ranging from their exceptionally elaborate royal palaces to the decorative architecture seen throughout the city and the amazing coffee shops, serving magnificent cakes alongside creamy coffees.
It's recommended to get up early when on holiday in Vienna, as the city is known for its early risers and lack of late-night life; the Viennese like to seize the day. Do the same and retrace the footsteps of the city's great luminaries by indulging in a glass of local wine at Mozart's favourite cafe, seeing Freud's famous couch at the Sigmund Freud Museum and admiring the works of master painters at the Kunsthistorichesmuseum. 
Highlights of Vienna
Begin all explorations of Vienna at the Ringstrasse, which surrounds the Inner Stadt and plays host to a number of important buildings such as the Hofburg Palace, the Kunsthistorisches Museum and the Natural History Museum, the Vienna State Opera and Parliament. This the perfect starting point for a tour of Vienna. The Hofburg Palace Complex is an unmissable sight, which today serves as the President's residence, although it was originally built in the 13th-century and has served as the main residence of the Habsburg's for almost 600 years.
The Rathaus, also located in the Inner Stadt, is an impeccable example of Gothic architecture and serves as the seat of local government. The MuseumQuartier is also nearby in the 7th district, the perfect place to spend an entire day soaking up the city's cultural legacy in the high-quality museums and galleries, housed in both baroque and modern buildings.
Other unmissable sights to visit on a tour of Vienna include the Spanish Riding School, an Austrian institution of classical dressage and horse-training, with regular performances, and the Schonbrunn Palace, the former summer residence of the Habsburg's and located in the Outer West District. UNESCO protected, the palace is unbelievably large, containing 1,441 rooms and built in a beautiful baroque style. 

Do you want expert advice?
We can help you choose the best destination for your trip.