Call us toll-free now
Book with an expert for free:
1 778 807 9750
Too much? We'll call you. Drop your number in the box:
24 hours a day, 7 days a week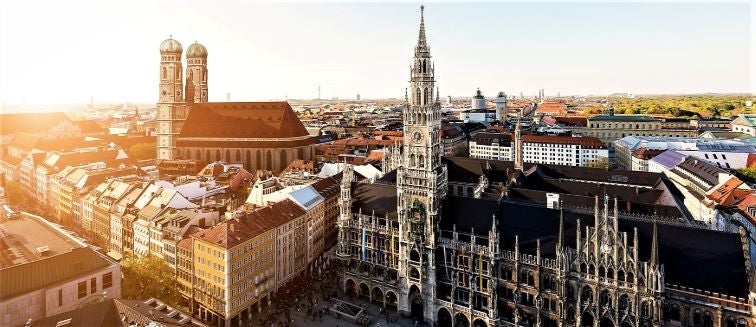 What to see in Germany
Munich
Tourist attractions Munich
The Bavarian capital, Munich is a city of two faces. On the one hand, it's filled with all the charms of traditional German culture, from cosy beer gardens and Lederhosen-wearing locals to lively oompah bands. On the other hand, Munich is one of the most affluent cities globally and well-known for its thriving car industry and modern infrastructure. With a vibrant cultural scene, a plethora of fascinating museums and an array of interesting architectural treasures, a city break to Munich is sure to be a delight!
Of course, Munich is best known for its annual Oktoberfest celebrations, but the revelry continues throughout the year. Stumble upon cheerful beer gardens, take a brewery tour and clink enormous steins of beer with the locals to experience the historic beer culture that defines this Bavarian capital. In fact, Munich's world-renowned breweries abide by strict 'purity laws', so you'll only be served up the best brews when you visit Munich.
If you travel to Munich you can experience a picture of modern Bavaria. The so-called city of 'laptops and lederhosen' has it all, from a historic city centre to hearty German food, trendy cafes and bars and plenty of fascinating sights to cram into your itinerary. A great base for further adventures into the idyllic Bavarian countryside, Munich deserves a spot on your next tour of Germany.
Things to see in Munich
There are sights to ignite the interests of all kinds of travellers in Munich, but undoubtedly the city's premier sight is the Residenzmuseum or Munich Residence. Open to the public since 1920, the Munich Residence is one of the most impressive and important palace museums in Europe. The former residence of Bavaria's Wittelsbach monarchs from 1508 until World War I, visitors flock here to admire its exquisite architecture, interior decoration and priceless royal collections. You'll need at least an entire morning to gain an overview of the treasures on display here, set across 90 rooms and 10 courtyards.
Another of the best things to see in Munich is Nymphenburg Palace. On the outskirts of the city, this magical estate offers another chance to immerse yourself in the elegance of yesteryear. Once the summer residence of Bavarian rulers, the vast size of its front facade surpasses that of Versailles, making it a must-see architectural treasure! The extensive landscaped gardens are perfect for exploring on a summer afternoon, complete with cascades, ornamental fountains, artificial lakes, pavilions and pretty walking paths.
To experience a completely different side of Munich, pay a visit to its famous BMW World. Inside this futuristic complex, you can trace the evolution of the German automotive industry over the last 100 years. Whether or not you're interested in cars, the layout and fascinating exhibitions on the future of car technology makes for an enjoyable experience.
Finally, a trip to Munich would be incomplete without a walk through its iconic English Garden. One of the world's largest urban parks, there's much more to this green space than simply walking trails and well-manicured lawns. Here, you'll find several beer gardens, beautiful pavilions, restaurants, a Japanese tea house and even an incredibly popular man-made surfing wave on the Eisbach River.
Copyright 2013-2023 Exoticca. All Rights Reserved.
Exoticca Travel Canada Inc 229 Yonge St Suite 400 Toronto, Ontario M5B 1N9 Canada