Call us toll-free now
Book with an expert for free:
1 778 807 9750
Too much? We'll call you. Drop your number in the box:
24 hours a day, 7 days a week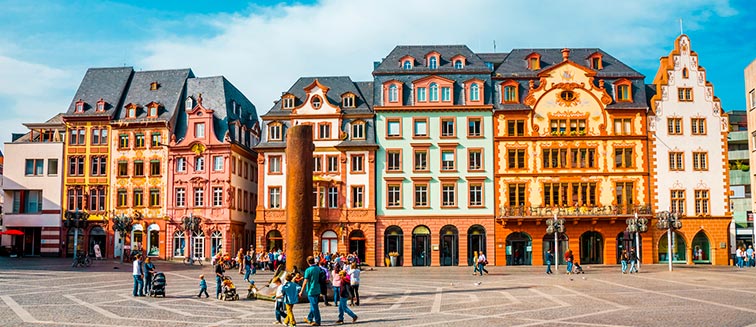 What to see in Germany
Mainz
Tourist attractions Mainz
The capital of the Rhineland-Palatinate and the largest city in the region, Mainz is conveniently located on the confluence of both the Main and Rhine rivers, so it is a popular port of call on a Rhine River Cruise. Inhabited as far back as 38BC, when the Romans constructed a citadel in the area, Mainz has a rich and varied history, shown in the half-timbered houses of its old town and the opulent architecture of its majestic Mainz Cathedral. Today, the city is home to the large Johannes Gutenberg University of Mainz, so visitors can expect to be welcomed by a lively student population and a young and vibrant atmosphere.
Mainz is perhaps most famous for being the hometown of Johannes Gutenberg, the inventor of the printing press in the 15th century, which revolutionised the distribution of knowledge and encouraged literacy around the world. Inside a charming traditional building in the old town, you will find the Gutenberg Museum, where visitors can learn about the inventor and also admire two original bibles, dating from the 15th century. Continuing the inventive and academic legacy of Gutenberg, Mainz is home to several other museums including the Ancient Seafaring Museum, a Natural History Museum and the Landesmuseum of Art and History.
A comprehensive tour of Mainz must also include a visit to the red-brick Mainz Cathedral, Romanesque in style and built between the 11th and 13th centuries. On Tuesdays, Fridays and Saturdays, a farmers market is held in the shadow of the cathedral. Close to this part of Mainz is the charming Marktplatz, which marks the centre of the old town and is an excellent example of a medieval market square, with shopping streets leading off from the central square. The riverbank, with sweeping views of both the Rhine and Main rivers, offers plenty of bars and restaurants, but Jakobsbergstrasse street is the best place to enjoy local wines in half-timbered taverns, and to unearth the traditional side of the city. If you are interested in experiencing the city in all of its glory, a trip to Mainz in February is a perfect choice as this is carnival season when the Fastnacht festival is celebrated, with parades, fancy dress, music and of course, delicious Fastnacht doughnuts.
Other highlights, not to be missed on a tour of Mainz, are the Theodor Huess Rhine Bridge, which connects the city to nearby Wiesbaden, and was carefully rebuilt after its destruction during WWII, Schillerplatz, a spacious city centre square and the Rosengarten, which blossoms with roses in the summer months but is the perfect place for a stroll any time of year.
Copyright 2013-2023 Exoticca. All Rights Reserved.
Exoticca Travel Canada Inc 229 Yonge St Suite 400 Toronto, Ontario M5B 1N9 Canada