Call us toll-free now
Book with an expert for free:
1 778 807 9750
Too much? We'll call you. Drop your number in the box:
24 hours a day, 7 days a week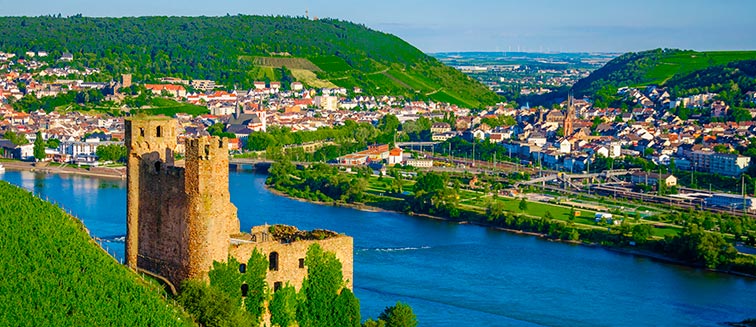 What to see in Germany
Rudesheim
Tourist attractions Rudesheim
A charming small town in the idyllic Rhine Valley, Rudesheim is part of a UNESCO World Heritage area, located in a famous wine-making region whichis famed for its delicious Reisling wines which have been produced in the region since the 14th century. The white buildings of the town stand out agisnt the lush green hills of the Rhineland, positioned on the banks of the Rhine river. Rudesheim and its many sights are easily accessible on foot, making it the perfect destination to visit during a tour of Germany. Without the imposing modern architecture of some of Germany's larger towns and cities, Rudesheim invites the visitor to step back in time and experience the quaint charm of a traditional rural town. Across the river is the larger town of Bingen, although Rudesheim has plenty to keep visitors entertained despite its small size.
The best place to begin a tour of Rudesheim is on the charming Drosselgasse, a cobblestoned lane in the heart of the historic old town bursting with old-style wine bars, taverns and beer gardens. During the summer months, this street is in a near-constant state of festivity with live music, bands and artists raising the spirits of visitors and locals alike. Of course, the best time to visit is during the Rudesheim Wine Festival, where the heritage of viticulture in the region is celebrated and the annual 'Wine Queen' is crowned.
Rudesheim's most popular sights include the Siegfrieds Mechanisches Musikkabinett, a museum dedicated to mechanical musical instruments, where you can hear old-world tunes played by automatic instruments and learn about how they work, Ehrenfels Castle Ruins, set amongst vineyards on a hill overlooking the river and the 12th century Boosenburg Castle, which has recently been converted into a music venue. If you are lucky and time your trip right you may even be able to watch a concert inside the old castle! Niederwald Monument, accessed by a gondola lift system as it is located on a hill above the town, commemorates the Franco-Prussian War and is another popular monument for visitors to Rudesheim.
OUR BEST TRIPS TO RUDESHEIM
Copyright 2013-2023 Exoticca. All Rights Reserved.
Exoticca Travel Canada Inc 229 Yonge St Suite 400 Toronto, Ontario M5B 1N9 Canada