Call us toll-free now
Book with an expert for free:
1 778 807 9750
Too much? We'll call you. Drop your number in the box:
24 hours a day, 7 days a week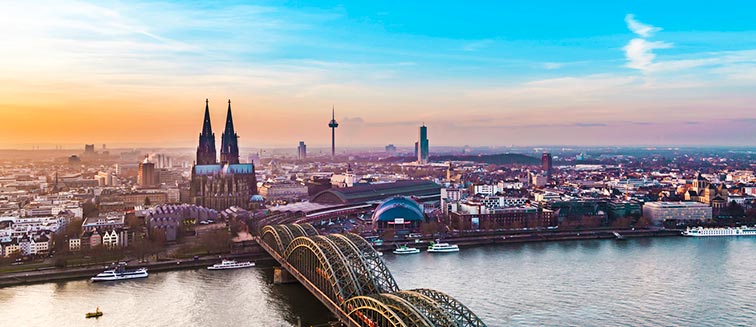 What to see in Germany
Cologne
Tourist attractions Cologne
The largest city in Germany's North Rhine-Westphalia Region, Cologne, known proudly to its citizens as 'Kolsche', is considered to be the country's most liberal city. It is the largest city on the mighty river Rhine, and historically, it was once the largest city in the Holy Roman Empire during the Medieval period. Every November, the city comes to life for its yearly carnival when party-goers in colourful costumes take to the streets around the central Zulpicherstrasse to dance, sing and share drinks with friends. This is a popular time of year for a tour of Cologne, as the atmosphere is contagious! Like other German cities, Cologne has a U-Bahn public transport system, although bicycle hire is a very popular means of transport in the city.
A delightful sight which stands out to all visitors to Cologne is the city's Kölner Dom Cathedral which rises triumphantly above the city skyline, most striking for its incredibly tall spires. Designated a UNESCO World Heritage Site, the Dom is a fantastic example of Gothic architecture which has been described as a powerful testimony to the persistence of Christianity in medieval and modern Europe. Most spectacular at night, when the cathedral is beautifully uplit, it is Germany's most visited landmark and visitors who are feeling energetic can climb to 509 steps to the top of the South Tower. Construction on the  Kölner Dom began in 1248, but it was not completed until the late 19th century. It is an unmissable visit for travellers on a tour of Cologne.
Other notable sights in Cologne include 12 Romanesque churches, including Saint Kunibert's, which is renowned for its dazzling stained-glass windows, and the traditional neighbourhood of Veedel, which boasts a bohemian atmosphere and is home to art studios, independent boutiques and quirky bars. Another of the city's curious landmarks is the Hohenzollern Bridge, which spans the Rhine and is known as 'Lock Bridge' as traditionally couples have fastened padlocks to the bridge together as a symbol of their devotion to each other. Cologne is home to a fine selection of museums, considering its size, with museums and galleries dedicated to subjects ranging from ecclesiastical art to culture, modern art and history. A visitor with an interest in history and architecture will be spoilt for choice on a trip to Cologne.
OUR BEST TRIPS TO COLOGNE
Copyright 2013-2023 Exoticca. All Rights Reserved.
Exoticca Travel Canada Inc 229 Yonge St Suite 400 Toronto, Ontario M5B 1N9 Canada