Call us toll-free now
Book with an expert for free:
1 778 807 9750
Too much? We'll call you. Drop your number in the box:
24 hours a day, 7 days a week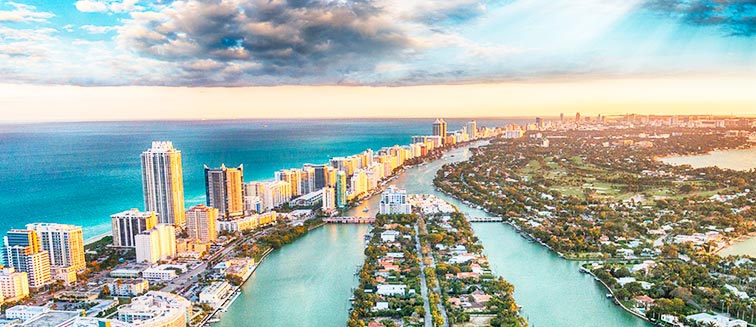 What to see in United States
Miami
Tourist attractions Miami
The sun, its beaches and its extensive leisure offers are just some of the attractions of Miami, in the state of Florida, which welcomes a large number of travellers each year.
Its extensive coastline of white sand bathed by the Atlantic Ocean makes it the perfect destination to enjoy the good weather and a relaxing holiday, hence its port is very popular for cruise ships, with cruisers enjoying the lively atmosphere and palm-lined promenades.
One of the best areas to feel the city's atmosphere is in South Beach, where the famed Ocean Drive is located, the street whose row of palm trees and pastel coloured art-deco buildings is the most iconic image of Miami.
Here you'll find dozens of fashionable restaurants and bars, where you can sit and watch the roller-skaters and the surfers, who head to the beach to catch the waves. Another of the liveliest neighborhoods in the city is Little Havana, founded by Cuban immigrants who arrived in Miami in the 1950s and 60s.
On a tour of Miami, do not miss a stroll down 8th Street, the most cheerful and well-known street in the city. Art lovers will find their paradise in the Design District, where a large number of art galleries, exhibitions, architecture studios, boutiques and restaurants are concentrated. Among the most famous monuments in Miami are the Coral Castle, the Freedom Tower, the Vizcaya Villa and the Caro Cape Florida Lighthouse.
We don't have any trips to Miami at the moment.
Subscribe to our newsletter to not miss any trips
In compliance with the Data Protection Regulation, we inform you about your rights in our privacy policy and Cookies policy
Copyright 2013-2023 Exoticca. All Rights Reserved.
Exoticca Travel Canada Inc 229 Yonge St Suite 400 Toronto, Ontario M5B 1N9 Canada