Call us toll-free now
Book with an expert for free:
1 778 807 9750
Too much? We'll call you. Drop your number in the box:
24 hours a day, 7 days a week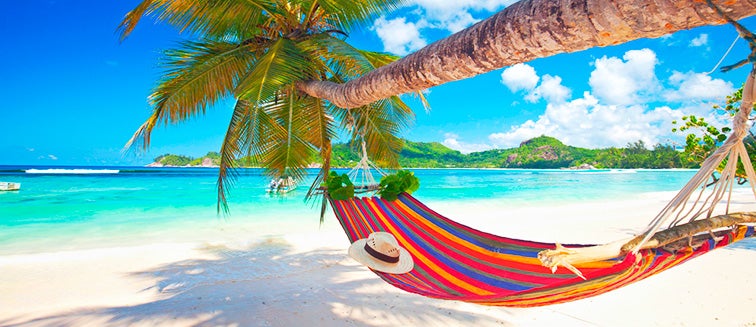 What to see in Mexico
Cancun
Tourist attractions Cancun
A paradise of turquoise waters, idyllic beaches, and hotels to suit every taste, Cancún is one of South America's favorite holiday destinations. Situated on Mexico's breezy Yucutan Peninsula, it is one of Mexico's most visited cities, known for its Maya culture, as well as its well-appointed leisure attractions. The city emerged as part of a tourism project in the 1970s and ever since it has attracted holiday-makers from across the globe.
If you choose a holiday to Cancún you will likely stay in one of two distinct parts of the city, the Zone Hotelera, where you can find many resorts, Caribbean beaches, restaurants, and laid-back beach bars, or the Cancún Centro neighborhood which offers a more authentic Mexican experience. Watersports such as diving and snorkeling are popular and available all along the coast, whilst tours to Maya ruins and mystical cenotes add a magical element to your beach escape. With a total of 34 kilometers of coastline, there's plenty of room to find your slice of bliss on the shores of Cancún. Many travelers choose to combine a Cancún stay with a more comprehensive Mexico tour. 
Highlights of Cancún
Although a holiday to Cancún is sure to revolve around beach-side relaxation, there is still plenty of things to do and see in and around the luscious Riviera Maya. The Museo Maya de Cancún is the perfect place to explore the Maya heritage of the region. 400 Maya artifacts can be found inside this world-class museum. Visitors on a trip to Cancún can combine adventure and culture at the impressive Cancún Underwater Museum of Art, discoverable on either a glass-bottomed boat or as part of a scuba-diving excursion.
This amazing underwater world is a unique concept, filled with poignant and thought-provoking sculptures, adorned with seaweed and tropical fish. History-lovers will be spoilt for choice at the conveniently located El Rey Archeological Zone, home to a complex of Maya ruins composed of 47 structures including a characteristic pyramid temple. The huge number of buildings and ruins are more than enough to indulge your curiosity surrounding Mexico's Maya heritage. If you've chosen a Cancún holiday to enjoy the charms of Mexican culture, head to vibrant Mercado 28, a characterful flea-market offering local produce, delicious food stalls and a huge selection of souvenirs and trinkets. Alternatively, take to the Caribbean Sea to visit charming Isla Contay, a national park, and island off the shore of the Yucutan Peninsula known for its sea-bird nesting sites and protected beaches. 
Copyright 2013-2023 Exoticca. All Rights Reserved.
Exoticca Travel Canada Inc 229 Yonge St Suite 400 Toronto, Ontario M5B 1N9 Canada