Call us toll-free now
Book with an expert for free:
1 778 807 9750
Too much? We'll call you. Drop your number in the box:
24 hours a day, 7 days a week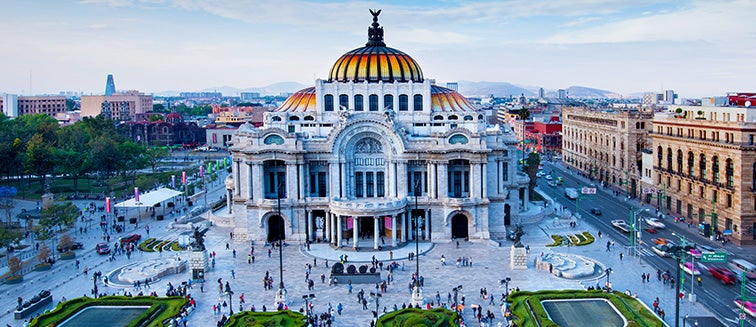 What to see in Mexico
Mexico City
Tourist attractions Mexico City
The capital of Mexico, known as the Federal District, is a huge city located in the center of the country full of contrasts. To experience Mexico City is to immerse yourself in the authenticity of the country's culture, where you can taste the delicacies of its gastronomy and participate in its folklore. One of the essential stops is Xochimilco, one of the territories of the city where there are still 14 indigenous villages that have managed to maintain their traditions despite the growing urbanization and tourism. The most characteristic sights are the chinampas, part of a traditional agricultural technique that consists of a set of rafts that move through the channels and cultivate flowers and vegetables. Today, this group of boats painted in bright colors are one of the most visited attractions in Mexico City. In its historical center most of the old buildings of the city are concentrated. A walk through El Zócalo, the Plaza de la Constitución, the National Palace, the Templo Mayor and the Plaza Garibaldi, is a great way to immerse yourself in the true culture of Mexico. Other places of interest are the Great Temple of the capital of the Aztecs and the Basilica of Our Lady of Guadalupe, an important center of pilgrimage. To rest from the hustle and bustle of the city there is nothing better than sheltering in the forest of Chapultepec, the largest green area in Mexico City. The important archaeological center of Teotihuacán is located 70 kilometers from the capital, where the Pyramid of the Sun, the Moon and the Citadel are located.
OUR BEST TRIPS TO MEXICO CITY
Copyright 2013-2023 Exoticca. All Rights Reserved.
Exoticca Travel Canada Inc 229 Yonge St Suite 400 Toronto, Ontario M5B 1N9 Canada