Call us toll-free now
Book with an expert for free:
1 778 807 9750
Too much? We'll call you. Drop your number in the box:
24 hours a day, 7 days a week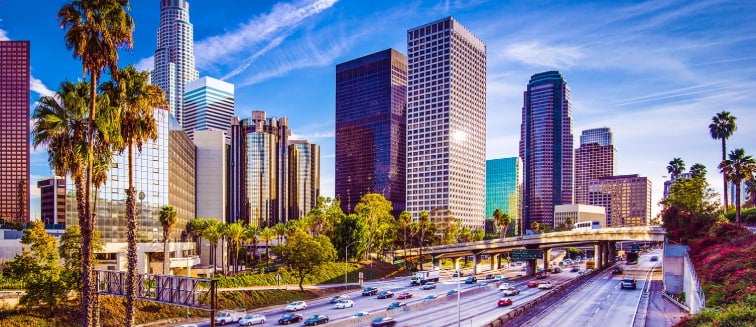 What to see in United States
Los Angeles
Tourist attractions Los Angeles
Known as the 'City of Angels' and 'La La Land', Los Angeles is a city which perfectly encapsulates the American Dream. A huge Southern Californian city, Los Angeles is most famous for its significance to the movie industry and world-famous Hollywood, where the world's biggest film studios are located. It is a land of celebrities, creatives and dreamers and the city has a unique atmosphere, unparalleled to anywhere else in the States.
Any package holiday to Los Angeles will undoubtedly introduce visitors to the most renowned sights in the city. These include Hollywood Boulevard, bursting with shops, museums and unmissable landmarks; the Chinese Theatre, where the handprints of the most glittering stars are immortalised in concrete; and Universal Studios, a theme park and entertainment centre with rollercoasters and opportunities to get behind the scenes of Hollywood's biggest blockbusters.
Los Angeles is also a food-lovers paradise, thanks to its diverse population who offer a wide array of cuisines and gastronomic experiences, from super healthy juice bars, loved by the cities young and beautiful population, to amazing Korean street food and everything in between. 
Aside from the wide palm-lined avenues and busy shopping streets, the Bay attracts millions of visitors who have the opportunity to bask in the Californian sunshine on the sandy beaches, enjoy surfing or watersports on the Pacific waters, and roller skate along the lively promenade. It's not uncommon to see groups of roller skaters and performers breaking into impromptu song and dance as the atmosphere of this part of the city is electric.
Venice Beach is another unique part of the city to visit, located in the Santa Monica neighbourhood and known for its quirky atmosphere, it is home to the famous 'Muscle Beach' outdoor gym, where bodybuilders work out and show off their physiques. Hiking up to the Hollywood sign is a must-do activity whilst visiting Los Angeles, especially at sunset as the twinkling lights of this city of dreams sparkle below, illuminating the mismatched architecture and busy boulevards below. 
We don't have any trips to Los Angeles at the moment.
Subscribe to our newsletter to not miss any trips
In compliance with the Data Protection Regulation, we inform you about your rights in our privacy policy and Cookies policy
Copyright 2013-2023 Exoticca. All Rights Reserved.
Exoticca Travel Canada Inc 229 Yonge St Suite 400 Toronto, Ontario M5B 1N9 Canada