Call us toll-free now
Book with an expert for free:
1 778 807 9750
Too much? We'll call you. Drop your number in the box:
24 hours a day, 7 days a week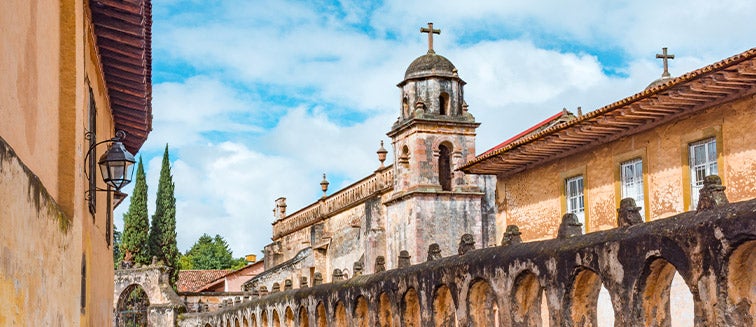 What to see in Mexico
Patzcuaro
Tourist attractions Patzcuaro
If you've always dreamt of experiencing Mexican culture at its most enchanting, pay a visit to Patzcuaro. This charming mountain town exudes old-world flair and is one of the most prominent towns in the lake region of Michoacan. If you travel to Patzcuaro, you can experience a fusion of both colonial Spanish and authentic Purepechan culture. Furthermore, thanks to the natural beauty of this region, Patzcuaro is an ideal choice for those looking to spend some time exploring the great outdoors, or in particular, Lake Patzcuaro, just a few miles from the town centre and surrounded by many equally charming villages and lakeside communities. 
One important figure to remember when you visit Patzcuaro is Bishop Vasco de Quiroga, sent by the Catholic church to the community in 1536. He is credited with bringing education and agricultural techniques to the people of Patzcuaro and many of the buildings in the colonial centre are dedicated to him. 
If you stay in Patzcuaro, you'll soon realise how important local traditions are to the inhabitants of this beautiful town. From the world-famous Day of the Dead celebrations of November 1st to the agricultural and fishing traditions that continue to define Patzcuaro today, visiting this town is the chance to delve deeper into authentic Mexico, away from the well-trodden tourist trail. 
Whilst many visit Patzcuaro on a day trip from nearby Morelia, spending some time in the city is well worth it if you take a tour of Mexico. Not only can you soak up the ambience of one of Michoacan's most famous and best-loved towns, but you can also get out and explore the treasures of Lake Patzcuaro, such as the island of Janitzio. 
Things to see in Patzcuaro
Any tour of Patzcuaro should begin in the atmospheric old town, ideally at the Zocalo, or main square. Also known as Plaza de Quiroga, this pretty meeting place is surrounded by 14th-century houses, charming cafes, bars and restaurants. This is literally and figuratively the heart of Patzcuaro, and most days the square is filled with street performers, market stalls and locals going about their daily lives. Standing at the centre of the square is a statue of Bishop Vasco de Quiroga. Another important square to visit in Patzcuaro is the nearby Plaza Chica, home to a busy daily market where you can discover a wide variety of locally grown products including fruit and vegetables, as well as handmade traditional wares.
Another of the most emblematic sights in town is the Basilica de Nuestra Señora de la Salud, dedicated to the patron saint of Patzcuaro. In fact, it is also the final resting place of Vasco de Quiroga himself and an important place of pilgrimage and worship. Built on a sacred pre-Columbian site, the interior is filled with interesting artworks, exquisite decorations and beautiful stained-glass windows.
If you're into Mexican art, be sure to pay a visit to the Museo de Artes e Industrias Populares, one of the best things to do in Patzcuaro. In the 16th-century, this building was once home to one of the oldest universities in the Americas. Nowadays, it's home to an incredible collection of local artworks, showcasing the lives and works of around 50 Purepecha people. Surely a must-visit if you want to uncover the culture of Patzcuaro.
Finally, no trip to Patzcuaro would be complete without a shopping spree at the Casa de Los Once Patios. Translated to 'the House of Eleven Courtyards', this colonial-era building is the best place in town to shop for traditional arts and crafts. Home to artisan workshops, here, you can purchase handmade wares directly from the crafters and admire the skills that have endured over the centuries with your own eyes. From pottery to colourful textiles and Day of the Dead statues, there's something to suit all tastes here. 
OUR BEST TRIPS TO PATZCUARO
Copyright 2013-2023 Exoticca. All Rights Reserved.
Exoticca Travel Canada Inc 229 Yonge St Suite 400 Toronto, Ontario M5B 1N9 Canada