Call us toll-free now
Book with an expert for free:
1-888-488-0592
Prefer us to call you? Drop your number in the box:
24 hours a day, 7 days a week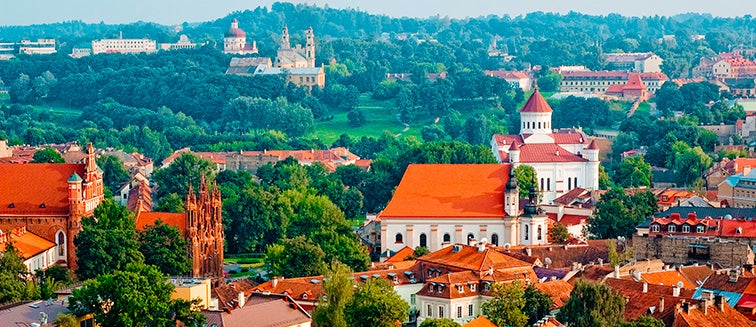 What to see in Baltic States
Vilnius
Tourist attractions Vilnius
This capital city, known for its spectacular medieval Old Town, holds a lot of charm for visitors on a trip to Lithuania, thanks to its lively cultural scene and well-preserved Baroque architecture. Its diverse population and complex history have left plenty to be explored during a visit to this little known Baltic gem. Described by Napoleon as the 'Jerusalem of the Noth', in tribute to its once large Jewish population, you can uncover a rich Jewish heritage if your visit Vilnius today. On a trip to Vilnius, visitors can trace the influence of the years spent under Soviet rule or watch the sunset over the city from the poignant Hill of Three Crosses. The city's large student population ensures an energetic nightlife scene, whilst its the best place in the country to sample the flavours of Lithuanian cuisine, including their quintessential potato dumplings, perfect sightseeing fuel. Situated in the south-east of the country, on the confluence of the Neris and Vilina Rivers, a trip to Vilnius is a rewarding venture into the heart of the Baltic states.
There are plenty of things to see in Vilnius, especially within its UNESCO World Heritage Old Town, which is where most of the city's best-loved attractions are concentrated. A icon of Vilnius's skyline, Gediminas Castle's red-brick tower dates back to the 13th-century and is one of the best spots for panoramic views across the city. Vilnius Cathedral is another must-visit sight on a tour of Vilnius. Here, you'll find the atmospheric cathedral crypt, where you can trace the history of Lithuania's most prominent figures, as well as a delightfully photogenic white collonaded exterior. For those looking to uncover the quirky side of the city, the district of Uzupis is an artistic haven, known for its galleries, boutiques and experimental restaurants. In 1997 Uzupis declared itself a separate republic, complete with a constitution and even a president. If you visit Vilnius today, you can still get your passport stamped at the local tourist office in Uzupis. If you're looking for things to do in Vilnius on a winter's day, be sure to explore the vast National Gallery. Situated across the river from the Old Town, it beautifully showcases contemporary and 20th-century Lithuanian art. 
Tourist attractions baltic-states
Copyright 2013-2023 Exoticca. All Rights Reserved.
80 Southwest 8th Street Brickell Bayview, Miami, FL 33130, United States