Call us toll-free now
Book with an expert for free:
1-888-488-0592
Prefer us to call you? Drop your number in the box:
24 hours a day, 7 days a week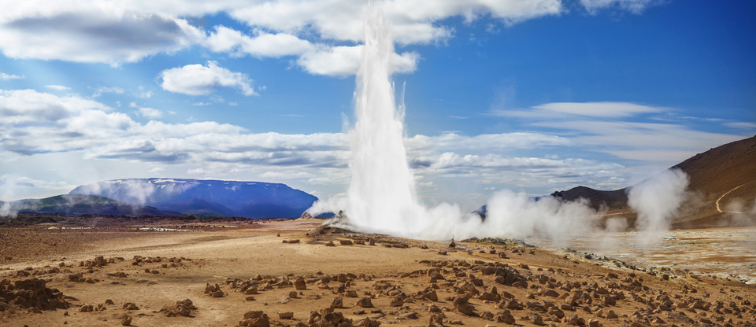 What to see in Iceland
Geysir Geothermal Area
Tourist attractions Geysir Geothermal Area
Located in the Haukadalur Valley of southwest Iceland, this geothermal area is home to an amazing collection of geysers, fumaroles and hot springs. A trip to Geysir Geothermal Area is the chance to experience Iceland's famous volcanic activity first hand and come face-to-face with the power of nature!
A major attraction on the Golden Circuit Route, this geothermal field is named after its most famous geyser, known as Geysir. It is said that all other geysers were named after this very one, and although it is largely dormant these days, you can still see the original geyser if you travel to Geysir Geothermal Area. 
Geysir might not be shooting huge sprays of boiling water into the air anymore, but neighbouring geysers such as Stokkor, Smiður and Litli-Strokkur leave visitors awe-struck by their powerful eruptions of water, some of which reach up to 40-metres high! In fact, the Stokkor geyser is said to erupt as frequently as every 5 to 10 minutes!
If you want to experience the geothermal activity of Iceland, visiting Geysir Geothermal Area is sure to satisfy your curiosity. Stretching for around 3 square kilometres, the geothermal activity here has slowly decreased over the centuries, but the area is still active enough to ensure at least a few unforgettable eruptions if you visit. Curiously, this geyser field lies close to the meeting point of two tectonic plates. Southern Iceland experiences earthquakes relatively frequently, and following these tremors, the activity at the Geysir Geothermal Area increases in ferocity!
As well as epic geysers, bubbling mud pots and steaming fumaroles, the Geysir Geothermal Area is situated close to some of the most famous sights in Iceland, such as Gullfoss Waterfall and Thingvellir National Park. If you travel to Geysir Geothermal Area, be sure to climb to the panoramic viewpoint, located on a nearby hill, to admire the sheer scale of this phenomenal natural attraction!
OUR BEST TRIPS TO GEYSIR GEOTHERMAL AREA
Copyright 2013-2023 Exoticca. All Rights Reserved.
80 Southwest 8th Street Brickell Bayview, Miami, FL 33130, United States