Call us toll-free now
Book with an expert for free:
1-888-488-0592
Prefer us to call you? Drop your number in the box:
Mon. to Fri.: available 24-hours Sat. and Sun.: 3:00 a.m. - Midnight (EST) Or call your preferred Travel Advisor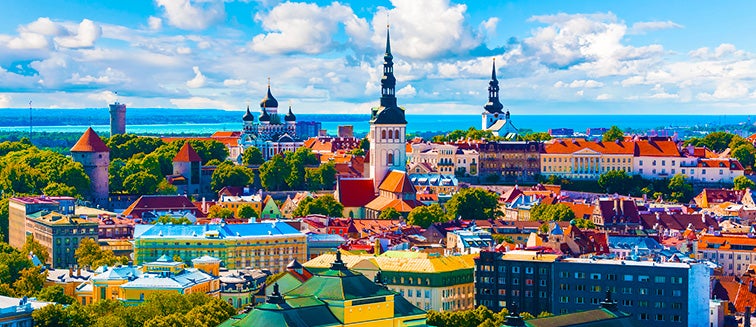 What to see in Baltic States
Tallinn
Tourist attractions Tallinn
Tallinn, the Estonian capital, is an exciting mix of the new and the old. It's historic Old Town, perhaps one of the best-preserved Hanseatic cities in the world, is unforgettable and sublimely photogenic, with ancient churches, medieval streets and fairytale charm. It's action-packed cultural calendar hosts countless music and arts events, whilst its situation on the Baltic coast offers scenic views and sandy beaches. With close historical ties to Stockholm, Helsinki and St. Petersburg, a trip to Tallinn will reveal a delightfully cosmopolitan atmosphere and a diverse population. The entirety of the walled Old Town is a designated UNESCO World Heritage site which enchants visitors with its grandiose merchant houses and cobbled streets. 
Of all the things to see in Tallinn, the Alexander Nevsky Cathedral, an icon of the Old Town, is one of the city's most widely recognised landmarks. Its onion-domed towers stand out amongst the skyline and worshippers can still attend services as it remains an active church. This cathedral also offers an interesting insight into Estonia's role in the former Russian Empire, having been constructed during this era. At the heart of the city lies the Town Hall Square. Flanked by pretty gabled buildings and awash with outdoor cafes, this centrepiece of Tallinn is especially magical during the Christmas season when festive stalls, adorned by twinkling fairy lights, and a huge spruce tree are erected in the square. For panoramic views across the city and the perfect photo opportunity to document a holiday to Tallinn, head to Toompea Hill. You're sure to find street musicians and locals joining you to watch the sunset on a summers eve. Nearby, Toompea Castle, built in the 1700s, might look modest from the outside but it is known for its beautiful gardens where you can find a slice of tranquillity if you tire of sightseeing. Other things to do in Tallinn include visiting the Estonian Open Air Museum, exploring the impressive Seaplane Harbour and Maritime Museum or enjoying the scenic sea views from the port.
OUR BEST TRIPS TO TALLINN
Tourist attractions baltic-states
Copyright 2013-2023 Exoticca. All Rights Reserved.
80 Southwest 8th Street Brickell Bayview, Miami, FL 33130, United States