Call us toll-free now
Book with an expert for free:
1-888-488-0592
Prefer us to call you? Drop your number in the box:
24 hours a day, 7 days a week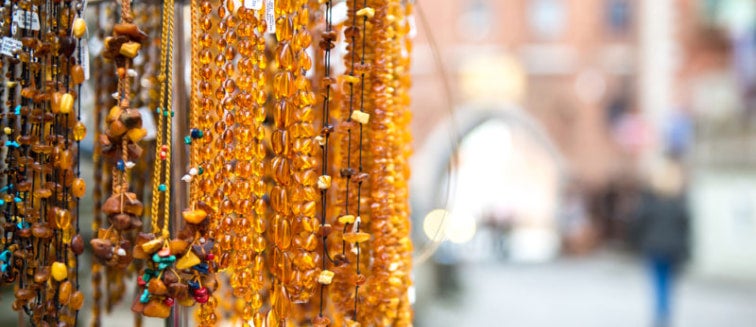 Shopping in
Baltic States
Shopping in Baltic States
If you are looking for souvenirs from Baltic States you should read this.
The Baltic Republics are composed of the three countries Estonia, Latvia, and Lithuania, which were part of the USSR until 1991 when they regained their independence to become the Baltic States. They quickly recovered their own identity and moved forward with determination and effort to join the European Union.
Free from the great Soviet power, they proudly showed the rest of the world their culture, their history, their nature, and their people. From then on, tourism was growing in the Baltic Republics, their capitals being the most visited. Tallinn, Riga, and Vilnius are World Heritage cities with incredible places to discover. And as all tourists like to take some souvenirs of their trip, we will tell you what the typical products of the Baltic Republics are.
Shopping in Tallinn (Estonia)
Estonia is not a region which has a great culinary tradition, although there are some typical products which can be a good gift. When Tallinn joined the commercial federation of the Hanseatic League, back in the 13th century, it became a rich city of merchants. These are some really traditional and typical things to buy in the Baltic Republic of Estonia.
Marzipan
Tallinn is another of the many cities which are attributed to the creation of marzipan. According to legend, it was manufactured for the first time in the City Pharmacy which, by the way, is still in operation. It is a very popular product in Tallinn, and it does not look like our marzipan.
Vana Tallinn
This means "Old Tallinn" and it is a liquor which is considered the country's national drink. It has a sweet flavor and is quite strong (with a degree of alcohol of 40% to 50%) and is drunk alone or mixed with coffee. In addition to the original, there are other versions with orange, chocolate or Vana Tallinn cream.
Traditional clothing
Woolen fabrics are one of the typical products of the Baltic Republics, specifically Estonia. Garments are still sold with the traditional patterns of the different regions of the country. Gloves, hats, scarves, jumpers, etc. can be found in the craft markets which are located near the city walls.
Chocolate Kalev
The Kalev chocolate factory was founded in 1806 and offers a huge variety of chocolates with an impeccable presentation, perfect for gifts. From the same house, there is also a nice cafeteria-shop and a peculiar marzipan museum.
Shopping in Riga (Latvia)
If we're looking for traditional products to buy in the Baltic Republics, in Riga we can find a wide variety of options.
Baltic amber
The Baltic Republics have the largest reserve of amber, no more or less than 80% of the world's supply of amber. It dates back 40 million years. With this beautiful material pieces of decoration and jewellery are made. Be careful to make sure that the amber is authentic.
Black Balsam
Called Rīgas Melnais balzams as its Latvian name. It is a traditional liquor made with a wide variety of herbs which are mixed with pure vodka. It has a high alcohol content of 45%. It is usually sold in precious handmade ceramic jars.
Products of markets
On Saturdays of each week, in the neighbourhood of Kalnciema, a large market is organised with a fun bohemian atmosphere where you can find local products of all kinds at a great price.
Shopping in Vilnius (Lithuania)
This capital is not well known and yet its historic centre is the largest of the three capitals of the Baltic countries. In this amazing city, we can also find interesting souvenirs of the Baltic Republics.
Crafts
In Lithuania, the wood is worked masterfully, and weather vanes and religious icons are specially made which are excellent gifts to buy in the Baltic Republics. With equal skill, artisan works are made with other materials such as ceramics, silver and glass.
Baltic Gold
Amber also has a great presence here, as it is very appreciated for its beauty and its quality. It is usually sold in delicate sizes or as a decorative element in many objects.
Craft beer
The Lithuanian beer tradition is quite unknown to the rest of the world, however, there is a deep-rooted culture around this rich and ancient drink. Traditional beer is characterised by its slightly bitter and slightly sweet flavour. It is made with locally produced barley.
Dziugas
Dziugas is a traditional Lithuanian cheese which its people are very proud of. It is traditional in the families of the country, to finish the celebrations by eating a bit of dziugas. Its consistency is hard and grainy in texture and it has many awards for being one of the best cheeses internationally.
These are some of the products to buy in the Baltic Republics, three countries which are proud of their tradition and which have much to offer tourists.
OUR BEST TRIPS TO BALTIC STATES
Copyright 2013-2023 Exoticca. All Rights Reserved.
80 Southwest 8th Street Brickell Bayview, Miami, FL 33130, United States