Call us toll-free now
Book with an expert for free:
1-888-488-0592
Prefer us to call you? Drop your number in the box:
24 hours a day, 7 days a week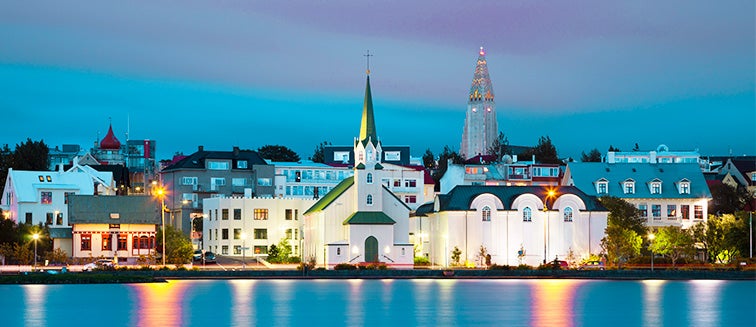 What to see in Iceland
Reykjavik
Tourist attractions Reykjavik
The capital of Iceland, Reykjavik is located on the southwest coast. This modestly sized city is considered the gateway to the spectacular natural wonders of the Icelandic wilderness. The world's northernmost capital, despite its relatively small population, Reykjavik boasts an array of cultural sights. It is also the political and economic centre of Iceland, home to important buildings and eclectic architecture. 
Filled with art galleries alongside a thriving gastronomic scene and trendsetting locals, Reykjavik city breaks are increasingly popular. The great thing about visiting Reykjavik is that this capital seamlessly combines all the amenities and entertainment of a city twice its size within easy each of jaw-dropping landscapes and geothermal phenomena. Reykjavik is proud of its heritage and if you explore its collection of museums you'll soon be familiar with the Viking origins of this remote capital.
With fresh air, awesome shopping and thriving cafe culture, you're sure to fall in love with Reyjavik's understated yet creative atmosphere. Furthermore, art abounds in this city, from vibrant street murals to thought-provoking sculptures, and it's little wonder where Reyjavik's creative community finds inspiration in this land of ice and fire!
Travel to Reyjavik to uncover a rich Viking heritage, captivating architecture and further explore the amazing landscapes of Iceland.
Things to see in Reykjavik
One image comes to mind when you think of the Icelandic capital: the mammoth Hallgrimskirka Cathedral. Easily the largest church in the country, at its pinnacle this unique structure reaches a lofty 74.5 meters high. This concrete structure took more than 40 years to complete, and it was finally inaugurated in 1989. This distinctly modernist church was designed to resemble the basalt lava flows of Iceland's volcanic landscape but it is most famous for its enormous pipe organ, which fills the church with rich melodies during the daily services. If you visit Reykjavik, be sure to climb to the top of Hallgimskirka Cathedral's church tower for stunning views across the city.
Another of the most important things to see in Reykjavik is the famous Sun Voyager sculpture. Located on the waterfront, overlooking the sea, this unique sculpture was created by Icelandic sculptor Jon Gunnar Arnason as an ode to the Viking ships of old and the promise of new, undiscovered lands. A beautiful spot for photography,  the Sun Voyager is an unmissable sight to discover if you visit Reykjavik. 
If you want to uncover this island's rich history, be sure to explore Rekjavik's National Museum of Iceland. Here you can trace the evolution of Iceland, from its original settlement, right up to the modern-day. Home to an array of fascinating artefacts, Viking-era items and artworks, it is an invaluable resource for understanding the story of Iceland. 
Finally, to truly bring Iceland's early history to life, be sure to visit the Saga Museum, one of the most interesting things to do in Reyjavik. Life-like models alongside multi-language audio tell the turbulent stories of Iceland's first settlers, making for a fascinating immersive experience for the whole family. 
OUR BEST TRIPS TO REYKJAVIK
Copyright 2013-2023 Exoticca. All Rights Reserved.
80 Southwest 8th Street Brickell Bayview, Miami, FL 33130, United States