Call us toll-free now
Book with an expert for free:
1-888-488-0592
Prefer us to call you? Drop your number in the box:
Mon. to Fri.: available 24-hours Sat. and Sun.: 3:00 a.m. - Midnight (EST) Or call your preferred Travel Advisor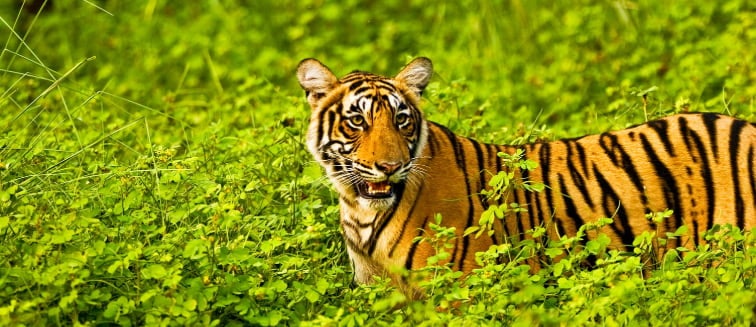 What to see in India
Ranthambore
Tourist attractions Ranthambore
Go in search of the elusive Bengal Tiger in Ranthambore, one of India's largest national parks, situated near the town of Sawai Madhopur in the northern state of Rajasthan. Here, the majestic Tigers can easily be spotted, both day and night, hunting, lounging and surveying their vast territory. Once the hunting grounds of the Maharajas, the national park was established in 1980 to protect the wildlife and its natural habitat.
Whilst looking out for tigers you're sure to come across a vast array of other wildlife along the way, ranging from leopards to jackals, flying foxes, deer, peacocks, monkeys and wild boar, as well as the iconic kingfisher, a symbol of India. Tiger safaris are a must when you are on a trip to Ranthambore, where you can traverse the 392 square kilometres of diverse dry forests, on the trail of these elusive big cats. 
What to see in Ranthambore
Aside from the landscape and wildlife contained within this natural sanctuary, the park has a number of unique sites where you uncover the history and mysteries of this wild paradise. The impressive Ranthambore Fort, a UNESCO World Heritage Site, keeps-watch over the entire park, offering spectacular views out across the landscape. Partially ruined, it still retains much of its charm and harks back to a romantic era in Indian history.
Inside the fort are temples dedicated to the Hindu gods Ganesh, Shiva and Ramlalaji. During a trip to Ranthambore, you are sure to pass by the huge Padam Talao Lake, the largest in the national park and by all measures, the most breathtaking.
It's known for its water lilies, which decorate the crystal clear waters and a nearby giant banyan tree, one of the largest in the country. It's also a hotspot for wildlife photographers, eager to catch the sunrise and sunset wildlife that flock to the waters edge to drink and refresh themselves in the lake. 
OUR BEST TRIPS TO RANTHAMBORE
Copyright 2013-2023 Exoticca. All Rights Reserved.
80 Southwest 8th Street Brickell Bayview, Miami, FL 33130, United States