Call us toll-free now
Book with an expert for free:
1-888-488-0592
Prefer us to call you? Drop your number in the box:
24 hours a day, 7 days a week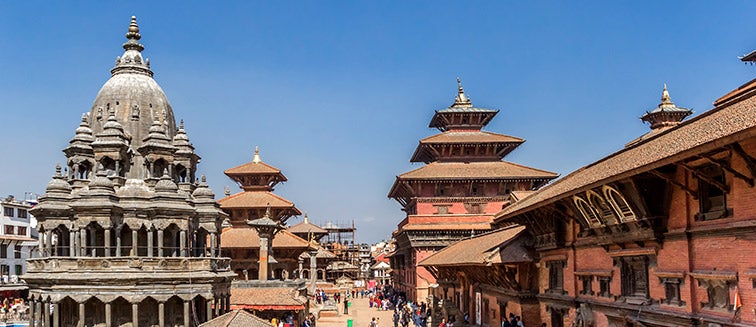 What to see in Nepal
Patan
Tourist attractions Patan
Just 5 kilometers from the hustle and bustle of the capital Kathmandu, lies the city of Patan, the third largest in Nepal. Also known as Lalitpur, meaning 'City of Beauty', Patan is one of the Kathmandu Valley's hidden gems, known for its serenity and slower pace of life. Perhaps this peaceful vibe has something to do with the city's Buddhist heritage, with more than 1200 Buddhist monuments found throughout the compact city.
Once an independent city-state, during a tour of Patan you'll probably agree that the city has retained much of its individuality. Within Nepal, the city is most famous for its arts and crafts, especially it's fine metalwork traditions. If you come across any high-quality metal statues or decorations in Nepal, they are likely to have been crafted in Patan.
The city was built around the Buddhist-Dharma-Chakra philosophy, but its diversity is shown in the addition of a number of Hindu temples. Any trip to Patan is likely to start and end in it's UNESCO protected Durbar Square, one of three Durbar, or 'royal', Squares in the Kathmandu Valley.
An astonishing example of Newari architecture, there's no escaping the feeling that you've stepped back in time as you walk past intricately carved facades that have withstood the test of time, earthquakes and upheavals of years gone by. This royal square is the centerpiece of a series of temples, palaces, and buildings, built close to an ancient crossroads which ensured the long-lived prosperity of Patan.
The most important temple in Patan's Durbar Square is Krishna Temple, built in 1637 and known for its fascinating stone carvings, illustrating ancient Sanskrit tales. Visiting Patan from Kathmandu is stress-free as you can cross the Bagmati River on one of the pedestrian bridges. It's proximity to the capital is ideal for when you want to escape the crowds of Kathmandu in exchange for some slower-paced sightseeing.
Copyright 2013-2023 Exoticca. All Rights Reserved.
80 Southwest 8th Street Brickell Bayview, Miami, FL 33130, United States