Call us toll-free now
Book with an expert for free:
1-888-488-0592
Prefer us to call you? Drop your number in the box:
24 hours a day, 7 days a week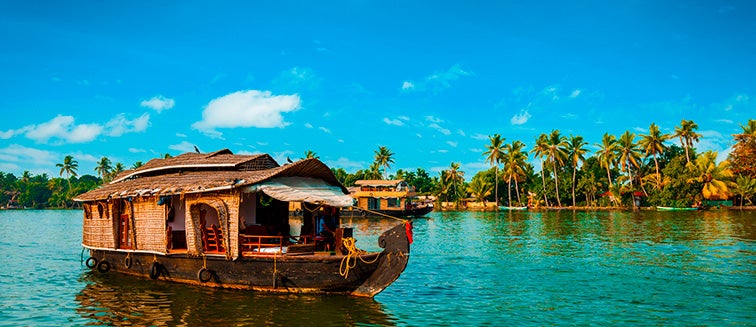 What to see in India
Kerala
Tourist attractions Kerala
A state on the Malabar Coast of southwest India, Kerala is often cited as the perfect destination for first-time travellers to India. Famed for its sleepy backwaters, exotic beaches and colorful local culture, a vacation to Kerala is the chance to experience India's most gorgeous landscapes and traditions, without the chaotic atmosphere of some of the country's largest cities.
English is widely spoken, beaches are within easy reach and historic towns and cities indulge culture lovers with an array of sightseeing opportunities. The modest size of this state means it's easy to gain a good overview of the region in a short space of time, either using the excellent rail system or opting for a tranquil houseboat ride instead!
The capital of Kerala state is Thiruvanathapuram, whilst other notable cities to include on a tour of Kerala are Kochi, Allepey, Kollam and Varkala, the latter of which is perfect for a beach vacation. Along with 600-kilometers of coastline, Kerala boasts the tea-covered mountains of the Western Ghats, a collection of wildlife-rich national parks and a beautiful collection of lakes, notably those located nearby the city of Kollam. 
Known for its coconut milk curries, yoga retreats and Ayurvedic traditions, travel to Kerala is sure to be an infinitely rewarding experience!
Things to see in Kerala
As an entire Indian state, there are countless things to see and do in Kerala. Of course, the most unmissable thing to do in Kerala is to take a boat trip on its famous backwaters. A world of palm-fringed waterways, coconut plantations and sleepy villages, the backwaters are best reached from the city of Alleppey. The most popular way to experience these verdant landscapes is by taking a houseboat cruise. Spend the day or stay the night onboard a houseboat for the quintessential Kerala experience!
The terrain and climate of Kerala ensure a perfect environment for cultivating a diverse variety of teas and spices. Visiting these plantations and, of course, sampling their fragrant produce, is one of the best things to do in Kerala. You'll find verdant tea fields across the state, particularly around the foothills of the Western Ghats, but the Mumar Valley is the most popular and abundant tea-growing area to visit on a tour of Kerala.
When it comes to cities, Kochi is a must-visit. A historic port city, Kochi is home to an array of historic sights such as the colonial-era Fort Kochi and the legendary Chinese fishing nets, perched along the shoreline and a symbol of the city. Key to understanding the heritage of Kerala, be sure to visit Kochi if you travel to this part of India.
If you're longing for a little beach relaxation, the best place to visit in Kerala is Varkala Beach. Dubbed the 'backpacker' capital of Kerala, Varkala Beach is a clifftop town overlooking the Arabian Sea. This seaside town is home to some of the most gorgeous beaches in the state, known for their tranquil stretches of sand and swaying palm trees. Varkala Beach is also home to an important Hindu holy site.
Finally, a trip to Kerala would be incomplete without discovering the local wildlife. Dream of seeing elephants and tigers in the wild? Head to Periyar National Park, a 925-square-kilometer protected area home to a rich array of rare and endemic wildlife. Lion-tailed macaques, sambar deer, leopards and Indian bison can also be found within the tropical landscapes of Periyar.
Copyright 2013-2023 Exoticca. All Rights Reserved.
80 Southwest 8th Street Brickell Bayview, Miami, FL 33130, United States