Call us toll-free now
Book with an expert for free:
1-888-488-0592
Prefer us to call you? Drop your number in the box:
24 hours a day, 7 days a week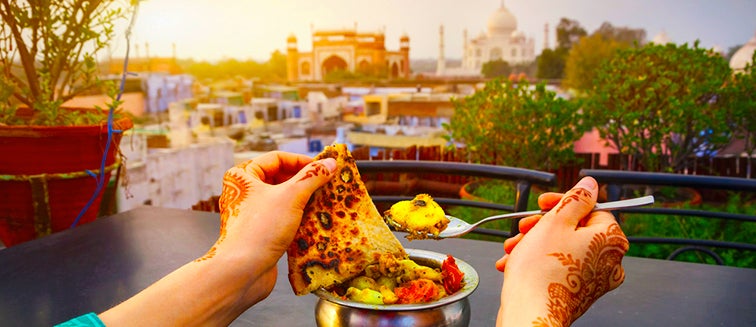 Food In India
The cuisine of India is characterized mainly by its rich and spicy dishes. Although vegetarian cuisine is immensely popular in India and you will find a wide variety of rice, vegetable and lentil dishes; meat eaters are also catered for. The cow is a sacred animal in the country, so in India chicken, turkey and lamb are commonly consumed meats.
The traditional way is to eat with the right hand, scooping up the food with bread although today, in many tourist restaurants, you can find cutlery. Here you will find the list of typical dishes of India that you can not miss on your holidays to India.
Aloo Matar
Composed mainly of potatoes and peas in tomato and onion sauce, this dish is very typical of the region of Uttar Pradesh, in Northern India. Depending on where it is made, it sometimes includes more ingredients, such as mustard and chili for a more fiery flavour.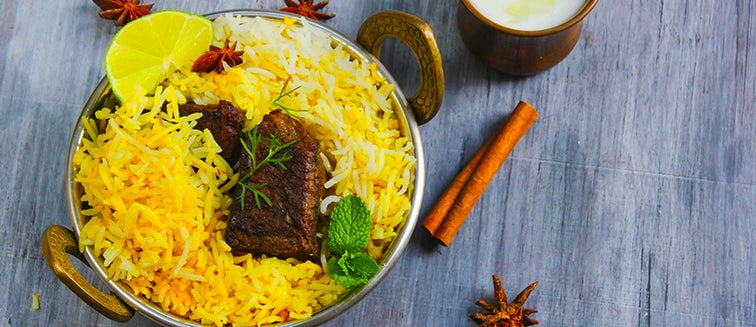 Biriyani
Biryani is composed mainly of rice, and a varying degree of spices, depending on the region you are in. There is a version for both vegetarians and meat eaters which may contain chicken, turkey or lamb. Hyderabad Biryani is one of its most popular variants and includes tender chunks of goat meat. It can be accompanied by sauces, such as yogurt, and extra spices.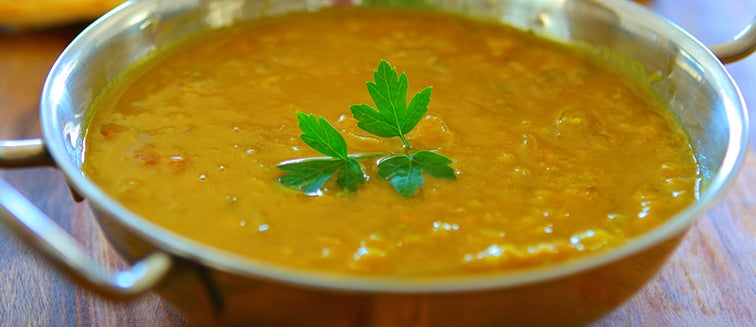 Dahl
One of the most popular Indian dishes it is usually composed of skinless lentils prepared as a stew or puree. Although it can be taken as a single dish, or as one of the main ones in a thali, it is usually eaten as an accompaniment to other dishes. In India there are up to 50 varieties of legumes, meaning a vast array of dhal options.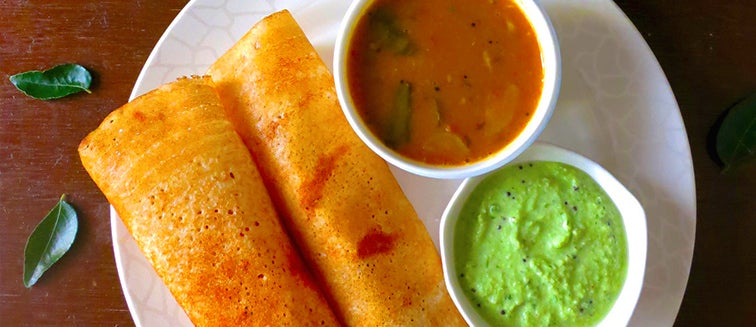 Dosa
The dosa is a typical crêpe of the south of India. It is usually made from lentil flour and many Indians eat it for breakfast. Its variant, the masala dosa comes filled with potatoes and vegetables, sometimes also with cheese and mushrooms. They can be found in many of the street food stalls of Southern India, especially in regions such as Goa.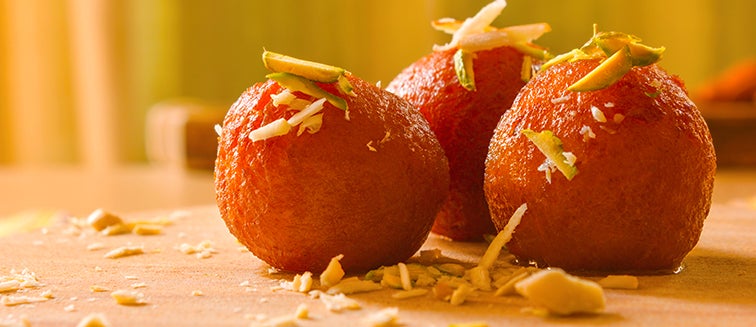 Gulab Jamun
Gulab Jamun is a typical sweet of Indian and Pakistani cuisine. It consists of balls of flour and milk fried in oil and sweetened with sugar, rose water and cardamom. To give it a reddish color, saffron threads are used to create a unique treat. It can be found in many of the street food stalls throughout the different regions of India.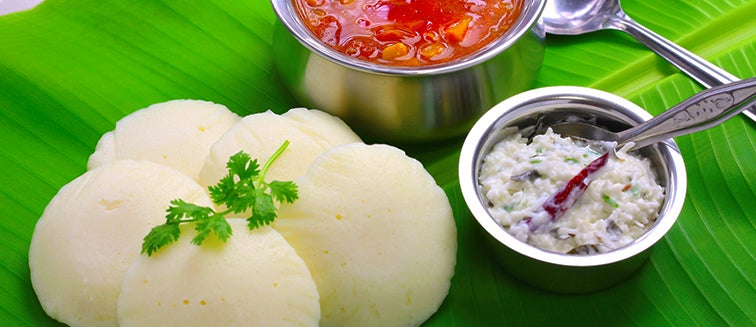 Idli
Idli is a savoury rice cake made with legumes, usually black lentils. It is characteristic of southern India, where they often eat it for breakfast or as a snack. It is usually served with chutney, a sauce with sweet fruit and spices, Sambhar broth and vada, another salty snack typical of the area.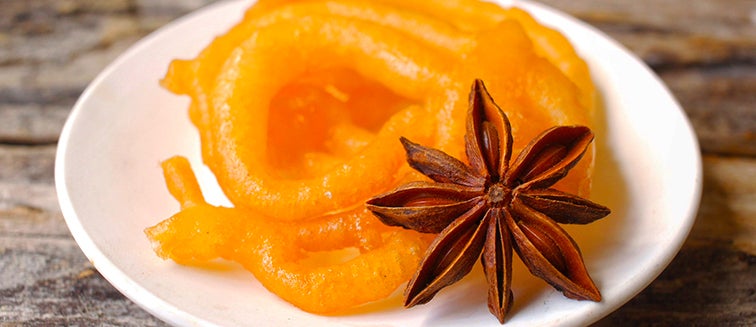 Jalebi
This sweet treat has a shape similar to the pretzel. It is made of  fried dough soaked in syrup. Sometimes it has an orange color, sometimes it is paler. It is typical of northern India, where you can try it in many of its restaurants and street food stalls. In the south of the country they have a similar dish: the yanguiri, which is usually eaten with custard.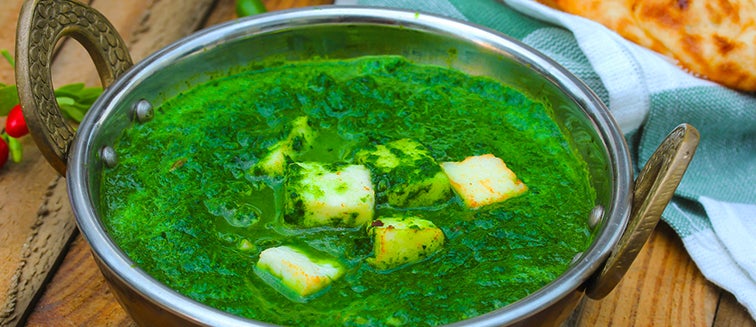 Palak Paneer
It is one of the favorite vegetarian dishes of  India. It consists of creamy spinach with paneer cheese mixed with a curry sauce. A variation of this dish, also often consumed in the country, is the saag, which instead of cheese contains mustard. It is traditionally eaten with naan bread with serves to scoop up the delicious dish.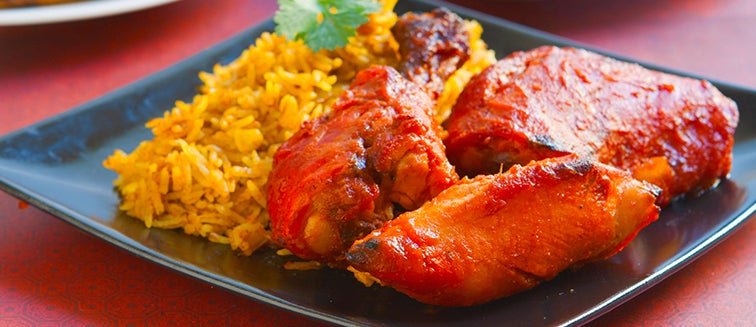 Tandoori Chicken
Charcoal grilled or roasted chicken marinated with yogurt and seasoned with tandoori masala, a mixture of spices ground together in a clay bowl. Tandoori chicken is a favourite all across the world and is a fine example of tasty Indian cuisine. The ingredients may vary depending on the area of the country, although they are almost always spicy.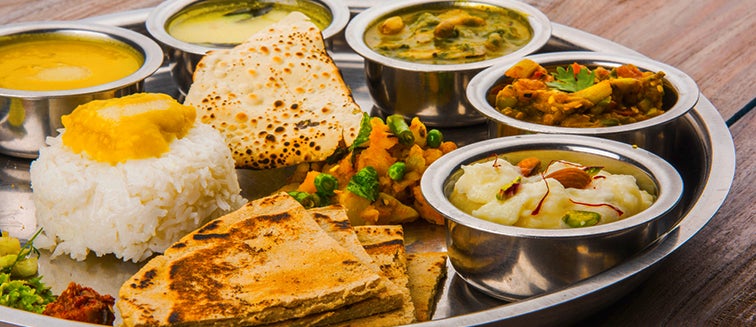 Thali
A Thali is a stainless steel metal tray that holds small bowls containing the most typical dishes of India, always accompanied by traditional chapati bread. Most Thali's usually include dhal, rice, vegetables, salad, curry, yogurt and pappad, which is a crusty bread made of lentils. Sometimes, they also come with a sweet dessert to reset the palate.  
Copyright 2013-2023 Exoticca. All Rights Reserved.
80 Southwest 8th Street Brickell Bayview, Miami, FL 33130, United States