Call us for free now
Book with an expert for free:
+44 20 8068 3176
Prefer us to call you? Drop your number in the box:
24 hours a day, 7 days a week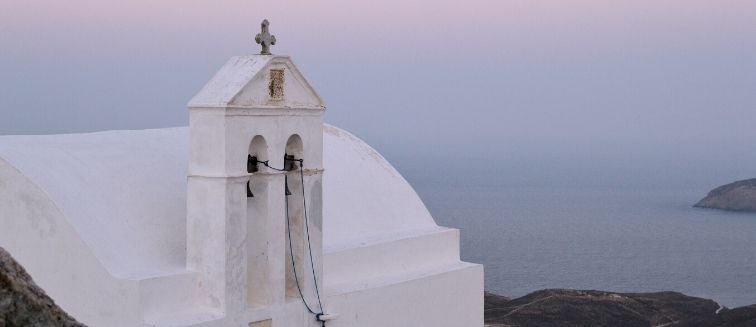 What to see in Greece
Serifos
Tourist attractions Serifos
If you are wondering what to see on Serifos, it's because you know how to search everywhere for the most valuable finds and the most hidden-away gems. Because that's what this little Greek island represents. When you arrive, the beaches, white-walled churches and dreamy landscapes are what await you.
Serifos encompasses no more than 70 km2, but it has plenty to offer despite its limited size. More than you can possibly imagine. To begin with, the first challenge is to choose the best of its 22 beaches and also its most picturesque villages, Chora and Livadi being strong candidates. And all this is without overlooking the spiritual life of the island, with its churches and monasteries.
What to see on Serifos: The best beaches
We will start with the beaches of Serifos, many of which are practically unexplored territory, and some are difficult to get to. The ideal way to reach the best ones is to rent a car. Although if you are a lover of sun and beach tourism, you will know that finding the most special spots requires some effort.
Psili Ammos beach, the most garlanded
Our list of the beaches on Serifos starts with the best known, Psili Ammos. In 2003 it won the award for the best beach in Europe, so its name should be more familiar than the rest. The beach undoubtedly deserves the award, but precisely because of this it tends to have a greater number of visitors. Also, when the north wind picks up, it can be uncomfortable. The sand is very fine however and the water very calm.
Agios Sostis beach
Agios Sostis cannot be reached by car, but there is a car park only 5 minutes' walk from the sand. Stop to look at the views as soon as you leave the car, because they are a spectacular hint of what you will see when you get there. 
Again, the sand is fine and soft and there are trees here that will shelter you from the wind. To add the final idyllic touch to this picture-postcard beach, the nearby church of Agio Sostis has a jetty where you can swim. It is built on rock and it's worth doing the short walk to pay a visit.
Karavi beach
Only two kilometres from the port of Serifos, Karavi beach is perfect for visiting on foot if you have not rented a car. Despite being so close, there are usually few people, so if you are looking for peace and quiet, you can find it here. The beach has alternating sandy and rocky sections and lacks trees.
Kalo Ampeli beach
This is one of those beaches that's harder to get to. Be patient if you want to sample its waters, because you will need to walk for about 20 minutes. Mind you, when you get to the sand you'll find a bay that will take your breath away. In addition, there is a cave at one end and the place is perfect for snorkeling. Kalo Ampeli beach is the perfect demonstration of every effort bringing its reward.
What to see on Serifos: small churches and monasteries
Remember that this little island harbours great treasures. What is there to see on Serifos if beaches are not your thing? One possibility is to take a small tour of the churches and monasteries that dot the landscape. We've already mentioned Agios Sostis, but it's not alone.
Taxiarchion Monastery
Taxiarchion is a fortified monastery which you'll find in the north of Serifos. It is inhabited by a single monk and its interior has a layout reminiscent of a small Greek village in miniature.
If you like picturesque places, visit the little white cemetery next door. You'll love it
Agios Minas church
Actually, this small white church is on the path to Taxiarchion monastery. It is a blue and white building, typical of the local architecture of the islands, and it embodies all the charm of the islands.
Agia Triada church
In this case, the typical blue and white are also combined with red to give a surprising departure from the general run of Greek churches. The church of Agia Triada is only three kilometres from Megalo Livadi and you can reach it by taking a small detour from the road.
What to see in Serifos: towns and villages
Chora
Chora is the capital of Serifos, no less, but don't let that fool you. It is one of those picturesque and charming villages that are so typical of the Greek islands. It covers the top of a hill and you'll fall in love with the windmills that welcome travellers.
To enjoy this village, let yourself wander aimlessly through its white streets until you reach the castle at the top. The views will leave you breathless and you may be able to catch a glimpse of one of the most beautiful sunsets in Greece.
At night, come to the main square and you will see that this small village also harbours great nightlife. Ideal for an enticing dinner accompanied by good wine.
Livadi
Livadi is the name of the port of Serifos. This is the perfect place to set up your base of operations. Here you can rent a car, there are supermarkets, restaurants... Everything you might need during your stay on the island.
OUR BEST TRIPS TO SERIFOS