Call us for free now
Book with an expert for free:
+44 20 8068 3176
Prefer us to call you? Drop your number in the box:
24 hours a day, 7 days a week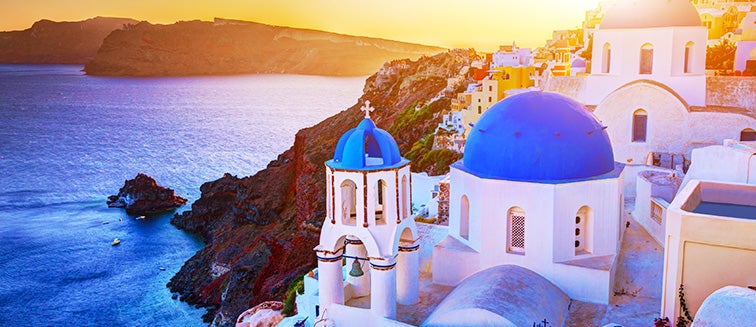 What to see in Greece
Santorini
Tourist attractions Santorini
One of the best-known Greek islands, Santorini sits within the Cyclades island group, nestled in the azure waters of the Aegean Sea. Instantly recognisable by its whitewashed hilltop towns, a holiday to Santorini is high on the lists of all travellers looking for an idyllic beach escape. Santorini is situated halfway between Athens and Crete, easily connected to both the mainland and other islands by ferries and flights.
Santorini actually encompasses a number of islands within a small volcanic archipelago, officially known as Thira, although the main, crescent-shaped island is where most visitors who travel to Santorini choose to stay. Santorini's volcanic origins can be traced back more than 3,600 years ago, when it was the site of the Minoan Eruption, the largest volcanic eruption ever recorded, responsible for the decline of Minoan civilisation in the Greek islands.
Nevertheless, most travel to Santorini for its gorgeous beaches and charming Greek culture, rather than its unique geology, although this volcanic environment makes for some pretty spectacular landscapes such as black sand beaches and dramatic red stone clifftops.
Fira and Oia are the main villages on the island and the most popular places to stay in Santorini. Both are known for their stylish tavernas, glamorous sea-view bars and soul-stirring sunsets. They're the perfect base for exploring the wealth of beaches and captivating landscapes of Santorini.
A popular destination for a relaxing beach holiday, Santorini has long been the most revered of the Greek Islands, so you can expect to find high-end hotels, fine dining and unforgettable views across this volcanic archipelago. No wonder it's also one of the most popular honeymoon islands in the world!
What to do in Santorini
Whether your planning on spending your holiday in Santorini kicking back on the beach or exploring the local culture, you'll find plenty of things to see and do. Oia village is one of the best places to see in Santorini and is said to be the most photographed place in Greece! This picturesque village is located in the north of the island, perched on the edge of the volcanic caldera. Awash with cubic houses, blue-domed roofs and narrow cobblestone streets, this is the Santorini of your imagination. Wander through its atmospheric streets at sundown to experience Oia at its most photogenic!
Just a 10-minute boat ride from Fira is another of the most important things to see in Santorini: Nea Kameni. This is the crater of the volcano from which Santorini was formed and is a must-visit sight on a trip to Santorini. A protected scientific site, boat trips to Nea Kameni usually include a 20-minute hike up to the peak of the submerged volcano, where you can soak up exceptional views of the Santorini archipelago and gain a good understanding of the geography of this volcanic island group. 
One of the lesser-known things to see in Santorini is its wineries. In fact, Santorini produces some of the most popular wines in Greece and is home to an impressive collection of 18 wineries! Whether your an expert sommelier or just a casual wine-lover, be sure to take a tour of the island's wineries, scattered throughout the volcanic landscapes. In fact, the mineral-rich volcanic soil is responsible for Santorini's abundant wine cultivation, so be sure to take a tasting tour of the island's wineries if you visit Santorini.
Of course, there's more to Santorini than sun-drenched beaches and wineries. The island has a rich historic heritage, and the ancient Minoan ruins of Akrotiri are a window into the ancient civilization which once inhabited the island. Predating the Greeks, part of the site dates back more than 4000 years including amazing ruins of houses, roads and everyday items. Visiting Akrotiri is one of the best things to do in Santorini if you want to learn more about the mysterious Minoan civilization. 
Whilst you're uncovering Santorini's history, be sure to stop at the Prehistoric Thera Museum, located in Fira. Here you can admire the most magnificent relics of both Minoan and Ancient Greek civilization excavated from archaeological sites across the island. 
OUR BEST TRIPS TO SANTORINI