Call us for free now
Book with an expert for free:
+44 20 8068 3176
Prefer us to call you? Drop your number in the box:
24 hours a day, 7 days a week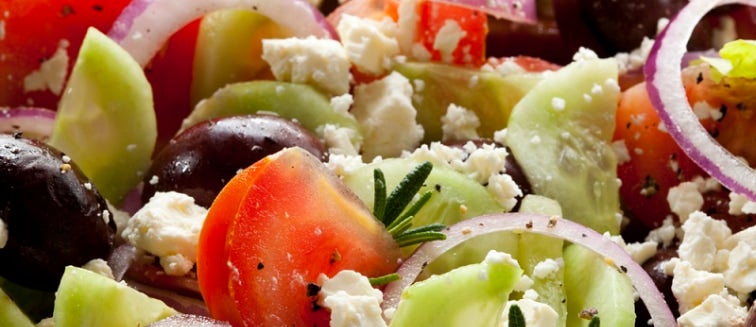 Food In Greece
There are many traditional dishes to eat in Greece that you will enjoy. Being a Mediterranean country, Greece has a very varied, healthy and delicious cuisine. As in our country, olive oil, vegetables and wheat are the main ingredients of Greek food.
Vegetables such as tomatoes, potatoes, aubergines, onions and mushrooms are all part of Greek gastronomy. All are well-known throughout the world. However, although okra is a native of Africa, it is a delicacy for the Greeks. But let's find out about traditional Greek dishes and what you should eat when in Greece during your travels.
Aperitifs
Before the first course of a Greek meal, you must try the delicious and varied aperitifs. The Mezze, for example, is a mix of starters served with pitta bread, which originated in Turkey. Other traditional starters in Greek gastronomy are:
Tzatziki
Tzatziki is a sauce made by mixing garlic and cucumber with yogurt. It is one of the most famous starters at an international level.
Taramosalata
This starter consists of a mixture of potatoes with soaked bread and cod roe. Its a real Greek delicacy.
Spanakotiropites
This long name is given to the most delicious pasties which are made with spinach and feta cheese and are just waiting to be tasted.
Dolmadakia
This entrée is of Turkish origin and is made with meat, rice and/or vegetables wrapped in a vine leaf. It is also traditional in Lebanese and Pakistani cuisines, but the Greek version has a secret touch.
Horiatiki
If you want to try a traditional Greek dish, you should ask for a horiatiki or Greek salad. Its preparation includes tomatoes, cucumber, pepper, onion, olives and feta cheese. All of which are seasoned with oregano and lots of olive oil.
Pikilia
If you like pickles you're in luck because this dish is based on gherkins, onions, celery, prawns, tomato and cucumber with feta cheese. You will love it. For the final touch, it is seasoned with lemon juice and olives.
Soups
Among all the types of soup that you can eat in Greece, don't miss out on the Fasolada, a very tasty soup made of beans with tomatoes, celery and carrots.  Another traditional Greek dish is lentil soup, to which a touch of vinegar is added.
For fish lovers, the Psarosoupa is made with fish and vegetables, to which olive oil is added. And for meat eaters, the Avgolemono is a chicken soup made with vegetables, eggs, rice and lemon juice.
Now let's move on to the most traditional dishes from Greek gastronomy, according to their worldwide fame:
Mousakas
It is very probable that the whole world has tried this delicious dish of roasted aubergines with meat and a béchamel sauce. Not only have we tried it, but we have also cooked it from a recipe ourselves. Nonetheless, eating it in Greece is sure to give it a completely different flavour.
Yemista
This is one of the most surprising traditional dishes to eat in Greece. On first appearance, it is a simple dish of roast tomatoes stuffed with rice and meat, but it has a delicious flavour.
Pastitsio
The pastitsio is a substantial dish of baked macaroni with minced meat and an abundant béchamel sauce. For pasta lovers, this is a good dish on which to begin your journey into Greek gastronomy.
Souvlaki
If you miss vela kebabs, you should know that these are eaten almost everywhere in Greece. They can also be made with pork, and there is a smaller sized variety that is served inside pitta bread.
Gyros
This is one of the most popular Greek gastronomy dishes among the Greeks themselves. It consists of roast meat with tomatoes and onions, all served in a pitta bread accompanied by tzatziki.
Soutzoukakia
If you like meat, another thing to eat in Greece are the very tasty, elongated meatballs. They are made with meat and a large variety of spices, all covered in a delicious tomato sauce.
Saganaki
This is another traditional Greek dish that you must try, particularly if you like cheese. It is served as an aperitif and is made of fried cheese, seasoned with lemon and served with mint leaves and finely-cubed tomatoes.
And to finish the Greek banquet, what better than a frappe coffee? An instant coffee overflowing with froth. You can eat all this and more during your visit to this historic country. Oh yes, and don't forget to try a small glass of some of its famous wines, as the country grows over 250 varieties of unique native grapes.