Call us for free now
Book with an expert for free:
+44 20 8068 3176
Prefer us to call you? Drop your number in the box:
Mon. to Fri.: available 24-hours Sat. and Sun.: 8am - Midnight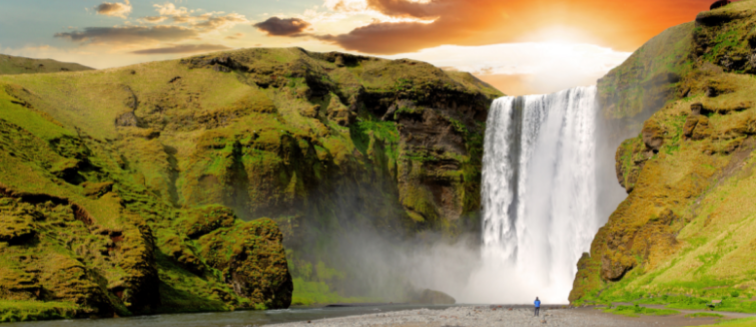 What to see in Iceland
Skogafoss Waterfall
Tourist attractions Skogafoss Waterfall
When it comes to waterfalls, Skogafoss is the largest and most beautiful in Iceland. Measuring 25 metres across and 60 metres high, visiting Skogafoss is sure to be an unforgettable highlight of any tour of Iceland. Conveniently located on the south coast, this awe-inspiring natural wonder is within easy reach of the popular Golden Circle Route and the Icelandic capital of Reykjavik. 
Shrouded in myth and legend, the story goes that the first Viking settler in Iceland hid a treasure chest behind the impenetrable Skogafoss waterfall around 900 AD. In later years, attempts were made to reclaim the hidden treasure from behind the wall of water, but locals were only able to keep hold of one golden ring from the side of the chest before it disappeared. This golden ring was given to the local church, and today it is housed within the Skogar Museum.
One of the most captivating sights to admire whilst visiting Skogafoss are the vibrant rainbows that form across the falls, a result of near-constant water spray from the tumbling cascade. Every time the sun is shining, rainbows decorate the already incredible landscape, creating a true spectacle of nature! If you travel to Skogafoss you can view the falls from the ground level, or ascend 527 steps to a viewing platform for a unique, birds-eye view of the waterfall.
Skogafoss is situated south of the Eyjafjallajökull glacier volcano and close to the charming village of Skogar. If you visit Skogafoss, be sure to explore the local folk museum for an insight into traditional life in southern Iceland. If you're up for a challenge, the popular Fimmvörðuháls pass hiking route is also within a short distance of Skogafoss, connecting the waterfall to the Þórsmörk valley on a route which runs along the Skoga River. 
Nestled amongst the unspoilt landscapes of southern Iceland, Skogafoss Waterfall is one of the most unforgettable natural wonders in Iceland. 
OUR BEST TRIPS TO SKOGAFOSS WATERFALL