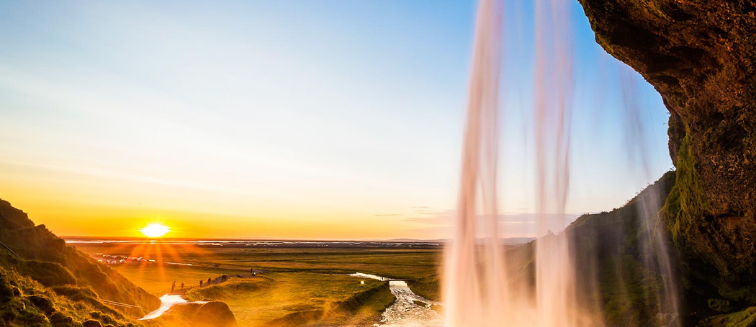 What to see in Iceland
Seljalandsfoss
Tourist attractions Seljalandsfoss
Iceland is famed for its beautiful waterfalls, but Seljalandsfoss stands out as it is one of the only waterfalls in the world that you can view from a 360-degree angle, owing to the existence of a small cave behind the cascade. Measuring 60 metres in height, this mesmerising curtain of water plummets into a glistening pool below. 
Of course, the highlight of visiting Seljanlandsfoss is venturing behind the waterfall. Following a sometimes slippery path leads you into the cave, where you can enjoy a different perspective of the cascade and, when the sun is shining, appreciate the rainbows created by the falling wall of water. If you visit Seljanlandsfoss Waterfall, be sure to wear your waterproof clothing as the spray is likely to leave you more than a little wet! 
Seljalandsfoss is part of the Seljalands River, the source of which is the Eyjafjallajokull stratovolcano. Eyjafjallajokull is well-known as the volcano that erupted in 2010, causing air travel chaos across Europe, but it is this very volcano that feeds the Seljalands River with meltwater, in turn keeping the flow of Seljlandsfoss as spectacular as ever! 
In the past, the waterfall used to continue its course all the way to the Atlantic Ocean, but the flow has lessened these days. If you travel to Seljalandsfoss you can soak up immense landscapes of the Icelandic coastline, both from inside the cave or from the top of the waterfall itself.
Brilliant at any time of year, in the summer the surroundings are covered in verdant Icelandic moss, whilst in the depths of winter, the waterfall is decorated with icicles and snow-covered rocks. Nearby, the smaller Gljufrabiu waterfall is also worth visiting. At 40 metres high this canyon waterfall is reached by following the path from the pool at the foot of mighty Seljalandsfoss. Both waterfalls are free to visit and are easily accessible from Rekjavik, making a day trip to Seljalandsfoss a popular option.
OUR BEST TRIPS TO SELJALANDSFOSS

Do you want expert advice?
We can help you choose the best destination for your trip.