Call us for free now
Book with an expert for free:
+44 20 8068 3176
Prefer us to call you? Drop your number in the box:
24 hours a day, 7 days a week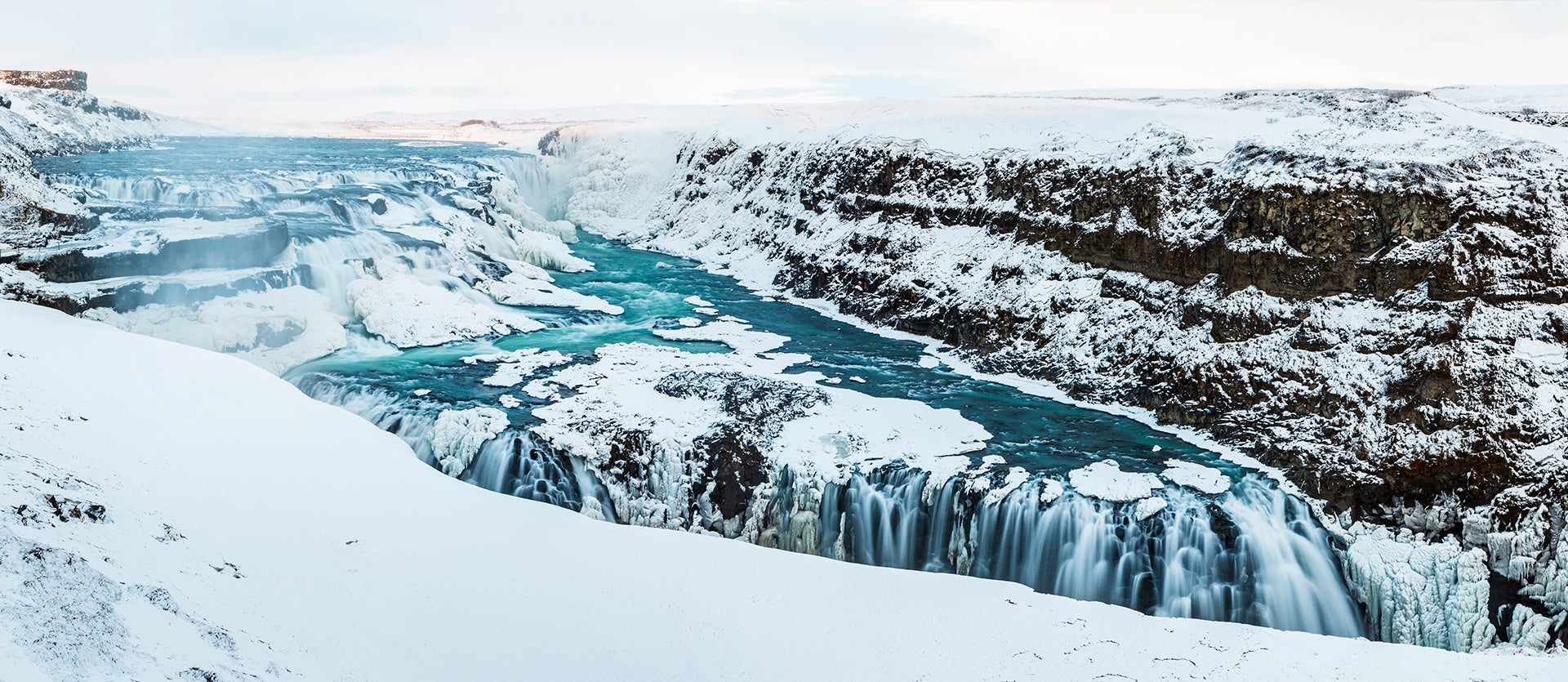 What to see in Iceland
Gullfoss Waterfall
Tourist attractions Gullfoss Waterfall
One of the most famous waterfalls on earth, Gullfoss is a must-see natural attraction in Iceland, the 'Land of Ice and Fire'. Flowing off of the Hvita River, this unstoppable wall of water plummets down a two-stage 32-metre drop in an awe-inspiring display of the power of nature. The source of the Hvita River and Gullfoss Waterfall is the meltwater of the nearby Langjökull glacier.
Unlike many other famous waterfalls in the world, Gullfoss never suffers from a lack of water. In fact, the abundant Hvita River sends up to 140 cubic metres of water over this jagged canyon per second, so be prepared to get sprayed by this tumbling wall of water if you go for a closer looker! What makes a trip to Gullfoss Waterfall so unique is the fact that you view this waterfall from above, instead of from ground level. Around 1.5 hours away from the capital of Reykjavik, day trips to Gullfoss are particularly popular. It is also part of the famous Golden Circle route, and visiting Gullfoss Waterfall is sure to be a highlight of any tour of Iceland. 
It is lucky that Gulfoss Waterfall still exists in its natural form today, as the site was the setting for many controversies during the early 20th-century. At this time the waterfall and surrounding land were owned by a local farmer, but foreign investors sought to buy the waterfall with the aim of using the extraordinary power of the falls to fuel a hydroelectricity plant. Thankfully, following years of legal battles, the waterfall was rightfully returned to the people of Iceland. 
If you travel to Gullfoss Waterfall today you can soak up the views from the panoramic viewpoints, distributed across different levels, as well as buy Gullfoss-related souvenirs from the onsite shop or stop for refreshments at the cafe, from where you can also enjoy spectacular views of the falls.
OUR BEST TRIPS TO GULLFOSS WATERFALL