Call us for free now
Book with an expert for free:
+44 20 8068 3176
Prefer us to call you? Drop your number in the box:
24 hours a day, 7 days a week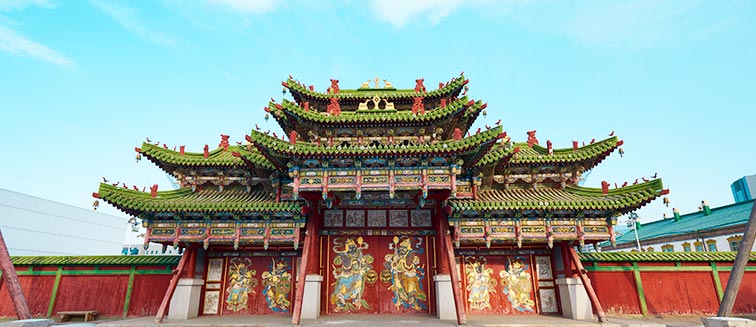 What to see in Mongolia
Ulaanbaatar
Tourist attractions Ulaanbaatar
Mongolia's capital city and the largest city in the country, Ulan Bator or Ulaanbaatar is situated in the Tuul River Valley and is an attractive travel destination for intrepid travellers, hoping to delve into both the history and modern culture of Mongolia.
Almost half of the country's entire population call Ulaanbaatar their home. It is truly the heart of the country and is home to a dizzying mix of architectural influences, where modern Soviet blocks rub shoulders with intricate Buddhist monasteries, high-rise skyscrapers and modest yurt settlements; in Ulaanbaatar, the past and future coexist harmoniously. A tour of Mongolia will almost always begin in the capital city, and it is also an important stop on the iconic Trans-Siberian Railway.
The city was originally founded as a nomadic monastic centre of Buddhism in the 17th-century, and a number of historic temples and monuments reveal the religious legacy of the city. A city of contrasts, Ulaanbaatar is home to an array of must-see sights that portray the diverse aspects of its history.
The Genghis Khan Central Square, one of the largest squares in Asia is a sleek, immaculate public space, with statues depicting the country's most revered leaders. On the other hand, the Zaisan Memorial, situated on top of a hill in the south of the city, is a Communist-era monument with brilliant views across the skyline and surrounding landscapes.
A legacy of the city's religious past, the Gandan Monastery is an unmissable stop on a tour of Ulaanbaatar and offers visitors the chance the witness the workings of an operating Buddhist monastery, home to around 150 monks.
A number of museums are the perfect place to take refuge from the harsh winter conditions that the city is known for, being the coldest capital city in the world. The Mongolian Museum of Art, the National Museum of Mongolia and the Central Museum of Mongolian Dinosaurs, home to fossils from the Gobi Desert, are among the most notable.
We don't have any trips to Ulaanbaatar at the moment.
Subscribe to our newsletter to not miss any trips
In compliance with the Data Protection Regulation, we inform you about your rights in our privacy policy and Cookies policy
Tourist attractions mongolia