Call us for free now
Book with an expert for free:
+44 20 8068 3176
Prefer us to call you? Drop your number in the box:
Mon. to Fri.: available 24-hours Sat. and Sun.: 8am - Midnight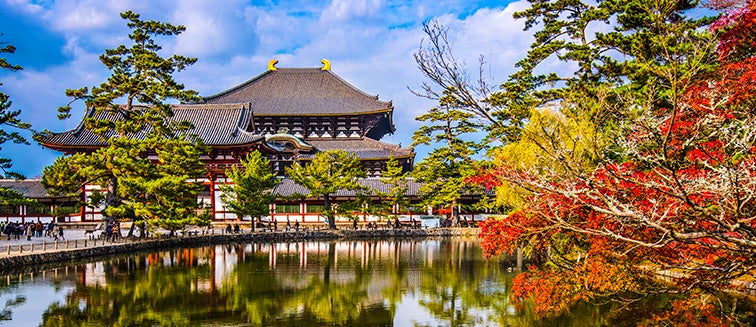 What to see in Japan
Nara
Tourist attractions Nara
Nara is one of the most visited cities in Japan, and it is no accident that it has achieved this honour. Visiting Nara is like travelling back in time. If you arrive by train, you'll see the newest part of the city, but you only have to climb a small slope to enter the most magical place in Japan. An accumulation of fields, woods, temples and small hidden-away altars. Set aside at least one full day for your visit and take a break for a plate of ramen. You'll be ready for it.
First port of call in Nara: feeding the deer in the park
Nara park is immense and most of its inhabitants are sacred deer. You'll see plenty of signs to warn you that they are dangerous right next to the mobile cookie sellers. These cookies are the only food you should offer the animals. When they see you holding them, they'll come to you to be fed. Don't misunderstand them: they are not friendly animals, but they are very polite. They know you're going to feed them in exchange for a photo and they'll pose for you. But they will be off as soon as you run out of food!
Be careful, these animals are protected. They're considered to be messengers of the gods and perhaps this is why they have developed a somewhat capricious character. 
The park is so big that you're unlikely to have time to see the whole thing. But if you've seen enough temples, head down to the lower area. Nara's young manga and anime fans gather in the park dressed as their favourite characters and it's not uncommon to see groups of cosplayers doing photo shoots. If you ask their permission, they'll let you take pictures too.
Todai-ji Temple
The Todai-ji is one of Nara's best-known temples. It's famous for its huge Buddha and its large gateway. One of the traditions is to pass through a hole that goes through the wood of one of the pillars sustaining the Buddha. The hole is exactly the same size as one of the giant statue's nostrils. And why do tourists and worshippers pass through this hole? Because whoever does so is blessed by the Buddha. 
Take the opportunity to burn some incense sticks in the courtyard on your way out, but do so with respect. Those who pray here are the devout faithful who take their religion very seriously, while you are just passing through. 
Kasuga-Taisha Shrine
Many of those who decide to visit Nara think that they can see the Kasuga-Taisha quickly, but nothing could be further from the truth. Once you pass through the entrance torii, which is more modest than at other temples, you'll find yourself in a magical enclosure. The path up from the park to the temple area is adorned with dozens of large stone lanterns. And inside the Kasuga-Taisha there are hundreds of lanterns of all sizes. The stone lanterns are impressive, but the metal ones that hang along every single corridor seem to come straight out of some traditional tale. If you have decided to visit Nara in early February or mid-August you may be lucky enough to witness the Setsubun Mantoro or Obon Mantoro festivals, respectively. During these periods the bronze and stone lanterns are simultaneously lit. The spectacle is unparalleled.
Kofuku-ji Temple Pagoda
Pagodas are one of the many attractions at a considerable number of tourist sites all over Japan. Travelling to Nara means you can visit the five-storey pagoda that is part of Kofuku-ji temple. The temple, for its part, is the oldest in the world built of wood. 
Naramachi, the samurai district
Naramachi, the old commercial district of Nara, retains its narrow alleyways and traditional houses. What used to be warehouses have become craft and gift shops. If you want to buy a truly traditional souvenir, look for a calligraphy workshop. There are several in this area. They sell special paper, brushes as big as brooms and as small as cotton buds for the ears. Nara's stationery stores are also a good place to find a less typical souvenir. Although almost everyone tends to choose a hanging monkey, or migawari-zaru, an ornament you will see in most Naramachi houses. 
Koshi-no-le, a traditional residence
If you want to know what life in feudal Japan was like, go inside this traditional house. Entrance is free.